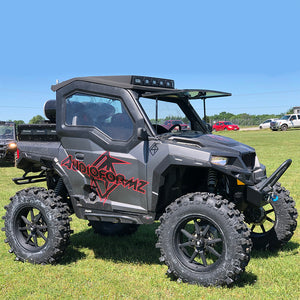 AudioFormz Stereo Tops
• Manufactured in the USA from 100% hand-laid fiberglass!
• Class leading, lightweight, aggressive molded design ensures a tight, snug fit on the roll cage that only Audioformz can deliver.
• Optimum air space inside stereo top for maximum bass response and overall sound quality!
• Features bullet liner durable polyurea black texture finish to protect from the most trying conditions with a high gloss, gelcoated sport scoop!
• Now comes standard with our new EVO marine and power sport speakers with built in IC LED lights and 1" Titanium tweeters!
• Add our optional patented RGB light rings for more custom lighting!
• Includes flush mount LED dome lighting.
• Separate rocker switches installed for radio, dome, front, and rear lighting.
• Installs quick and easy with supplied hardware and clamps and two wire hook up
• One year limited warranty on all electronics and stereo top.
• Freight Charge of $150.00 per invoice. Invoices over $7,500 are free freight.
| | | |
| --- | --- | --- |
| Legacy PN | MPN | Description |
| | | Can-Am Models |
| AFC004L1 | X3-4SPKLVL1 | X3 Four Speaker Top, Audioformz PMC1 BT Radio, Four AFEVO 8" Speakers *(No Gloss Scoop) |
| AFC004L2 | X3-4SPKLVL2 | X3 Four Speaker Top, Audioformz PMC1 BT Radio, Four AFEVO 8" Speakers, Front 40" Single Row LED Light Bar, Rear 18 Watt LED Light |
| AFC004L3 | X3-4SPKLVL3 | X3 Four Speaker Top, NA30C BT Radio, Aux In Plug, Four AFEVO2 8" Speakers W/'Ic" LED'S, Ic LED Controller, One Mm800.4 Amp, Front 40" Single Row LED Light Bar, Rear 18 Watt  LED Light |
| AFC004L4 | X3-4SPKLVL4 | X3 Four Speaker Top, NA30C BT Radio, Aux In Plug, Four AFEVO2 8" W/"IC" LED'S, Ic LED Speaker Rings, One Pair AFEVO2 6.5" Tower Speakers W/ Quick Disconnects, Ic LED Speaker Rings, Ic LED Controller, One Mm800.4 Amp, Front 40" Single Row LED Light Bar, Rear 18 Watt LED Light |
| AFC004L5 | X3-4SPKLVL5 | X3 Four Speaker Top, NA30C BT Radio, Aux In Plug, Four AFEVOpro2 8" W/"IC" LED'S, Ic Speaker Rings, Ic LED Controller, One Mm800.4 Amp, Two 10" Audioformz Subwoofers In SeaLED Box'S Under Seat, Front 40" Single Row LED Light Bar, Rear 18 Watt LED Light |
| | | |
| AFC007L1 | X3MAXLVL1 | X3 Max Top, Audioformz PMC1 BT Radio, Four AFEVO 8" Speakers *(No Gloss Scoop)* |
| AFC007L2 | X3MAXLVL2 | X3 Max Top, Audioformz PMC1 BT Radio, Four AFEVO 8" Speakers, Front 40" Single Row LED Light Bar, Rear 18 Watt LED Light |
| AFC007L3 | X3MAXLVL3 | X3 Max Top, NA30C BT Radio, Four AFEVO2 8" Speakers W/"IC" LED'S, Ic LED Controller, One Mm800.4 Amp, Front 40" Single Row LED Light Bar, Rear 18 Watt LED Light |
| AFC007L4 | X3MAXLVL4 | X3 Max Sub Top, NA30C BT Radio, Aux In Plug, Four AFEVO2 8" Speakers W/"IC" LED'S, Ic LED Speaker Rings, Ic LED Controller, One Mm800.4 Amp, One 10" Audioformz Subwoofer, Front 40" Single Row LED Light Bar, Rear  18 Watt LED Light |
| AFC007L4-5 | X3MAXLVL4.5 | Call for Details |
| AFC007L5 | X3MAXLVL5 | X3 Max Pro Sub Top, NA30C BT Radio, Aux In Plug, Four AFEVOpro2 8" Speakers W/"IC" LED'S, Ic LED Speaker Rings, Ic LED Controller, Two Mm800 Amplifiers, Two 10" Audioformz Subwoofers, Front 40" Single Row LED Light Bar, Rear 18 Watt LED Light |
| AFC007L5-5 | X3MAXLVL5.5 | Hertz Hmr20 BT Radio, 8-Audioformz Evo2 8″ Ic LED Speakers, Ic LED Speaker Rings, Ic LED Controller (App) And Remote, 2-Audioformz 800W Amplifiers, 2-Audioformz 10″ Subwoofers In SeaLED Under-Seat Boxes, Audioformz 200W 40″ Light Bar, Rear Cargo Light. |
| AFC007L6 | X3MAXLVL6 | Hertz Hmr20 BT Radio, 4-Audioformz Evo Pro2 8″ Ic LED Speakers, Ic LED Speaker Rings, 1 Pair Of Evopro2 Tower Speakers With Ic LED Rings, Ic LED Controller (App) And Remote, 3-Audioformz 800W Amplifiers, 3-Audioformz 10″ Subwoofers In Roof, Audioformz 200W 40″ Light Bar, Rear Cargo Light. |
| | | |
| AFC009L1 | COM/SPTMAXLVL1 | Top, Audioformz Pmc-1 BT Radio, 4-Audioformz Evo 8″ Speakers. |
| AFC009L2 | COM/SPTMAXLVL2 | Top, Audioformz Pmc-1 BT Radio, 4-Audioformz Evo 8″ Speakers, 4-Front 20W LED Lights, 1-Rear LED Light |
| AFC009L3 | COM/SPTMAXLVL3 | Top, Hertz Hmr20 BT Radio, 4-Audioformz Evo2 8″ Ic LED Speakers, Ic LED Controller, Audioformz 800W Multi-Mount Amplifier, 4-Front 20W LED Lights, 1-Rear LED Light. |
| AFC009L4 | COM/SPTMAXLVL4 | Subwoofer Top, Hertz Hmr20 BT Radio, 4-Audioformz Evo2 8″ Ic LED Speakers With Ic LED Speaker Rings, Ic LED Controller, 1-12″ Audioformz Subwoofer, Audioformz 800W Multi Mount Amplifier, 4-Front 20W LED Lights, 1-Rear LED Light. |
| AFC009L5 | COM/SPTMAXLVL5 | Pro Subwoofer Top, Hertz Hmr20 BT Radio, 2-Audioformz Evo Pro2 8″ Ic LED Speakers With Ic LED Speaker Rings, Ic LED Controller, 2-10″ Audioformz Subwoofers, 2 – Audioformz 800W Multi-Mount Amplifiers, 4-Front 20W LED Lights, 1-Rear LED Lights. |
| | | |
| AFC008L1 | TRL/SPTLVL1 | Trail / Sport Top, Audioformz PMC1 BT Radio, Four AFEVO 8" Speakers |
| AFC008L2 | TRL/SPTLVL2 | Trail / Sport Top, Audioformz PMC1 BT Radio, Four AFEVO 8" Speakers, Four Front 20 Watt LED Lights, One Rear LED Light |
| AFC008L3 | TRL/SPTLVL3 | Trail / Sport Top, NA30C BT Radio, Four AFEVO2 8" Speakers W/"IC" LED'S, Ic, Ic LED Controller, One Mm800.4 Amp, Four Front 20 Watt LED Lights, One Rear LED Light |
| AFC008L4 | TRL/SPTLVL4 | Trail / Sport Sub Top, NA30C BT Radio, Aux In, Two AFEVO2 8" Speakers W/"IC" LED'S, Ic LED Speaker Rings, Ic LED Controller, Two 10" Audioformz Subwoofers, One Mm800.4 Amp, Four Front 20 Watt LED Lights, One Rear LED Light |
| Legacy PN | MPN | Description |
| | | Can-Am Models |
| AFC008L5 | TRL/SPTLVL5 | Trail / Sport Pro Sub Top, NA30C BT Radio, Aux In, Two AFEVOpro2 8" Speakers W/"IC" LED'S, Ic LED Speaker Rings, Ic LED Controller, Two 10" Audioformz Subwoofers, One Mm800.4 Amp, Four Front 20 Watt LED Lights, Two Side Lights, One Rear LED Light |
| | | |
| AFC006L1 | DEFENDERLVL1 | Defender Top, Audioformz PMC1 BT Radio, Four AFEVO 8" Speakers |
| AFC006L2 | DEFENDERLVL2 | Defender Top, Audioformz PMC1 BT Radio, Four AFEVO 8" Speakers, Four Front 20 Watt LED Lights,  One 10" Rear Light Bar |
| AFC006L3 | DEFENDERLVL3 | Defender Top, NA30C BT Radio, Four AFEVO2 8" Speakers W/"Ic LED'S, Ic LED Controller, One Mm800.4 Amp, Four Front 20 Watt LED Lights, 1-10" Rear Light Bar |
| AFC006L4 | DEFENDERLVL4 | Defender Sub Top, NA30C BT Radio, Aux In, Four AFEVO2 8" Speakers W/"IC" LED'S, Ic LED Speaker Rings, Ic LED Controller, One 10" Audioformz Subwoofer, One Mm800.4 Amp, Four Front 20 Watt LED Lights, 1-10" Rear Light Bar |
| AFC006L5 | DEFENDERLVL5 | Defender Sub Pro Top, NA30C BT Radio, Aux In, Four AFEVOpro2 8" Speakers W/"IC" LEDs, Ic LED Speaker Rings, Ic LED Controller, One 10" Audioformz Subwoofer, One Mm800.4 Amp, Four Front 20 Watt LED Lights, One 10" Rear Light Bar |
| AFC006L6 | DEFENDERLVL6 | Call For Details |
| | | |
| AFC005L1 | DEFENDERMAXLVL1 | Defender Max Top, Audioformz PMC1 BT Radio, Four AFEVO 8" Speakers |
| AFC005L2 | DEFENDERMAXLVL2 | Defender Max Top, Audioformz PMC1 BT Radio, Four AFEVO 8" Speakers, Four Front 20 Watt LED Lights, 1-10" Rear Light Bar |
| AFC005L3 | DEFENDERMAXLVL3 | Defender Max Top, NA30C BT Radio, Four AFEVO2 8" Speakers W/"IC" LED'S, Ic LED Controller, One Mm800.4 Amp, Four Front 20 Watt LED Lights, 1-10" Rear Light Bar |
| AFC005L4 | DEFENDERMAXLVL4 | Defender Max Sub Top, NA30C BT Radio, Aux In, Four AFEVO2 8" Speakers W/"IC" LED'S, Ic LED Speaker Rings, Ic LED Controller, Two 10" Audioformz Subwoofers, One Mm800.4 Amp, Four Front 20 Watt LED Lights, 1-10" Rear Light Bar |
| AFC005L5 | DEFENDERMAXLVL5 | Defender Max Sub Top, NA30C BT Radio, Aux In, Four AFEVOpro2 8" Speakers W/"IC" LED'S, Ic LED Speaker Rings, Ic LED Controller, Two 12" Audioformz Subwoofers, Two Mm800 Amplifiers, Four Front 20 Watt LED Lights, 1-10" Rear Light Bar |
| AFC005L6 | DEFENDERMAXLVL6 | Call For Details |
| | | |
| AFCSBL1 | DEFENDERSBLVL1 | Fiberglass Sound Bar, Audioformz Pmc-1 BT Radio, 2-Evo2 6.5″ Speakers. |
| AFCSBL2 | DEFENDERSBLVL2 | Fiberglass Sound Bar, Audioformz Pmc-1 BT Radio, 4-Evo2 6.5″ Speakers With Ic LEDs, Ic LED Controller. |
| AFCSBL3 | DEFENDERSBLVL3 | Fiberglass Sound Bar, Hertz Hmr20 BT Radio, 4-Evo2 6.5″ Speakers With Ic LEDs, Ic LED Speaker Rings, Ic LED Controller, Audioformz Flush Mount Amplifier. |
| | | Honda Models |
| AFH004L1 | TALONLVL1 | Honda Talon Stereo Top, Audioformz PMC1 BT Radio, Four AFEVO 8" Speakers |
| AFH004L2 | TALONLVL2 | Honda Talon Stereo Top, Audioformz PMC1 BT Radio, Four AFEVO 8" Speakers, Four Front 20W LED Light,  Rear Cargo Light  |
| AFH004L3 | TALONLVL3 | Honda Talon Stereo Top, NA30C BT Radio, Aux In, Four AFEVO2 8" Speakers W/"IC" LED'S, Ic LED Controller, One Mm800.4 Amp, Four Front 20W LED Lights, One Rear Cargo Light |
| AFH004L4 | TALONLVL4 | Honda Talon Stereo Top, NA30C BT Radio, Aux-In, Two AFEVO2 8" Speakers W/"IC" LED'S, Ic LED Speaker Rings, Ic LED Controller, One Mm800.4 Amp, Two 10" Audioformz Subwoofers, Four Front 20W LED Lights, One Rear Cargo Light  |
| AFH004L5 | TALONLVL5 | Honda Talon Stereo Top, NA30C BT Radio, Aux-In, Two Evopro2 8" Speakers W/"IC" LED'S, 2 Evopro2 Tower Speakers, Ic LED Speaker Rings, Ic LED Controller, One Mm800.4 Amp, Two 10" Audioformz Subwoofers, Four Front 20W LED Light,  Rear Cargo Light |
| | | |
| AFH005L1 | TALONX4LVL1 | Honda Talon X4 Stereo Top, Audioformz PMC1 BT Radio, Four AFEVO 8" Speakers |
| AFH005L2 | TALONX4LVL2 | Honda Talon X4 Stereo Top, Audioformz PMC1 BT Radio, Four AFEVO 8" Speakers, Four Front 20W LED Light,  Rear Cargo Light  |
| AFH005L3 | TALONX4LVL3 | Honda Talon Stereo Top, NA30C BT Radio, Four AFEVO2 8" Speakers W/"IC" LED'S, Ic LED Controller, One Mm800.4 Amp, Four Front 20W LED Lights, One Rear Cargo Light |
| AFH005L4 | TALONX4LVL4 | Honda Talon Stereo Top, NA30C BT Radio, Usb-In/Volt, Four AFEVO2 8" Speakers W/"IC" LED'S, Ic LED Speaker Rings, Ic LED Controller, One Mm800.4 Amp, Two 12" Audioformz Subwoofers, Four Front 20W LED Lights, One Rear Cargo Light  |
| AFH005L5 | TALONX4LVL5 | Honda Talon Stereo Top, NA30C BT Radio, Usb-In/Volt, Four Evopro2 8" Speakers W/"IC" LED'S, Ic LED Speaker Rings, Ic LED Controller, Two Mm800 Amps, Two 12" Audioformz Subwoofers With Af Ported  Roof, Four Front 20W LED Light,  Rear Cargo Light |
| | | |
| AFH001L1 | PIONEER1000-5LVL1 | Honda Pioneer 1000-5 Top, Audioformz PMC1 BT Radio, Four AFEVO 8" Speakers |
| AFH001L2 | PIONEER1000-5LVL2 | Honda Pioneer 1000-5 Top, Audioformz PMC1 BT Radio, Four AFEVO 8" Speakers, 4-20 Watt Front LED Lights, 1-20 Watt Rear LED Light |
| AFH001L3 | PIONEER1000-5LVL3 | Honda Pioneer 1000-5 Top, NA30C BT Radio, Four AFEVO2 8" Speakers W/"IC" LED'S, Ic LED Controller, One Mm800.4 Amp, Four 20 Watt Front LED Lights,  One Rear LED Light |
| AFH001L4 | PIONEER1000-5LVL4 | Honda Pioneer 1000-5 Sub Top, NA30C BT Radio, Aux In, Four AFEVO2 8" Speakers W/"IC" LED'S, Ic LED Speaker Rings, Ic LED Controller, One 12" Audioformz Subwoofer, One Mm800.4 Amp, Four 20 Watt Front LED Lights,  One Rear LED Light |
| AFH001L5 | PIONEER1000-5LVL5 | Honda Pioneer 1000-5 Sub Top, NA30C BT Radio, Aux In, Four AFEVOpro2 8" Speakers W/"IC" LED'S, Ic LED Speaker Rings, Ic LED Controller, One 12" Audioformz Subwoofer, One Mm800.4 Amp, Four 20 Watt Front LED Lights,  One 20 Watt Rear LED Light |
| Legacy PN | MPN | Description |
| | | Honda Models |
| AFH002L1 | PIONEER1000-3LVL1 | Honda Pioneer 1000-3 Top, Audioformz PMC1 BT Radio, Four AFEVO 8" Speakers |
| AFH002L2 | PIONEER1000-3LVL2 | Honda Pioneer 1000-3 Top, Audioformz PMC1 BT Radio, Four AFEVO 8" Speakers, Four 20 Watt Front LED Lights, One Rear LED Light |
| AFH002L3 | PIONEER1000-3LVL3 | Honda Pioneer 1000-3 Top, NA30C BT Radio, Aux In, Four AFEVO2 8" Speakers W/"IC" LED'S, Ic LED Controller, One Mm800.4 Amp, Four 20 Watt Front LED Lights, One Rear LED Light |
| | | |
| AFH003L1 | PIONEER700LVL1 | Honda Pioneer 700 Top, Audioformz PMC1 BT Radio, Four AFEVO 8" Speakers |
| AFH003L2 | PIONEER700LVL2 | Honda Pioneer 700 Top, Audioformz PMC1 BT Radio, Four AFEVO 8" Speakers, Four 20 Watt Front LED Lights, One Rear LED Light |
| AFH003L3 | PIONEER700LVL3 | Honda Pioneer 700 Top, NA30C BT Radio, Aux In, Four AFEVO2 8" Speakers W/"IC" LED'S, Ic LED Controller, One Mm800.4 Amp, Four 20 Watt Front LED Lights, One Rear LED Light |
| AFHP700 | Pioneer 700 Rear SUN TOP | Pioneer 700 Rear Sun Top (No Electronics) |
| | | Kawasaki Models |
| AFK004L1 | MULEPROFXTLVL1 | Kawasaki Mule Pro-Fxt Top, Audioformz PMC1 BT Radio, Four 8Evo 8" Speakers |
| AFK004L2 | MULEPROFXTLVL2 | Kawasaki Mule Pro-Fxt Top, Audioformz PMC1 BT Radio, Four Evo 8" Speakers, Six 20 Watt Front LED Lights, One Rear LED Light |
| AFK004L3 | MULEPROFXTLVL3 | Kawasaki Mule Pro-Fxt Top, NA30C BT Radio, Four Evo2 8" Speakers W/"IC" LED'S, Ic LED Controller, One Mm800.4 Amp, Six 20 Watt Front LED Lights, One Rear LED Light |
| AFK004L4 | MULEPROFXTLVL4 | Kawasaki Mule Pro-Fxt Top, NA30C BT Radio, Aux In, Four Evo2 8" Speakers W/"IC" LED'S, Ic LED Speaker Rings, Ic LED Controller, One Mm800.4 Amp Amp, Eight 20 Watt Front LED Lights, Two Side Lights, One Rear LED Light |
| AFK004L5 | MULEPROFXTLVL5 | Kawasaki Mule Pro-Fxt Top, NA30C BT Radio, Eight Evo2 8" Speakers W/"IC" LED'S, Ic LED Speaker Rings, Ic LED Controller, One Mm800.4 Amp, Eight 20 Watt LED Lights, Two Side Lights, One Rear LED Light |
| | | |
| AFK005L1 | KAW.MULEPROFXLVL1 | Kawasaki Mule Pro-Fx Top, Audioformz PMC1 BT Radio, Four AFEVO 8" Speakers |
| AFK005L2 | KAW.MULEPROFXLVL2 | Kawasaki Mule Pro-Fx Top, Audioformz PMC1 BT Radio, Four AFEVO 8" Speakers, Six 20 Watt Front LED Lights, One 20 Watt Rear LED Light |
| AFK005L3 | KAW.MULEPROFXLVL3 | Kawasaki Mule Pro-Fx Top, NA30C BT Radio, Four AFEVO2 8" Speakers W/"IC" LED'S, Ic LED Controller, One Mm800.2 Amp, Six 20 Watt Front LED Lights, One Rear LED Light |
| AFK005L4 | KAW.MULEPROFXLVL4 | Kawasaki Mule Pro-Fx Top, NA30C BT Radio, Aux In, Four AFEVO2 8" Speakers W/"IC" LED'S, Ic LED Speaker Rings, Ic LED Controller, One Mm800.2 Amp, Eight 20 Watt Front LED Lights, 2-Side Lights, 1-Rear LED Light |
| AFK005L5 | KAW.MULEPROFXLVL5 | Kawasaki Mule Pro-Fx Top, NA30C BT Radio, Four AFEVOpro2 8" Speakers W/"IC" LED'S, Ic LED Speaker Rings, Ic LED Controller, One Mm800.4 Amp, Eight 20 Watt Front LED Lights, 2-Side Lights, 1-Rear LED Light |
| | | |
| AFK002L1 | MULE4010LVL1 | Kawasaki Mule 4010 Top, Audioformz PMC1 BT Radio, Two Af65Evo2 6.5" Speakers  |
| AFK002L2 | MULE4010LVL2 | Kawasaki Mule 4010 Top, Audioformz PMC1 BT Radio, Two AFEVO2 6.5" Speakers, Front LED Light Bar, Rear LED Light Bar |
| AFK002L3 | MULE4010LVL3 | Kawasaki Mule 4010 Top, NA30C BT Radio, Two AFEVO 6.5" Speakers W/"IC" LEDs, Ic Controller, Front LED Light Bar, Rear LED Light Bar |
| | | |
| AFK003L1 | TERYX2LVL1 | Kawasaki Teryx2 Top, Audioformz PMC1 BT Radio, Four AFEVO 8" Speakers |
| AFK003L2 | TERYX2LVL2 | Kawasaki Teryx2 Top, Audioformz PMC1 BT Radio, Four AFEVO 8" Speakers, Four 20 Watt Front LED Lights, One Rear LED Light |
| AFK003L3 | TERYX2LVL3 | Kawasaki Teryx2 Top, NA30C BT Radio, Four AFEVO2 8" Speakers W/"IC" LED'S, Ic LED Controller, One Mm800.4 Amp, Four 20 Watt Front LED Lights, One Rear LED Light |
| AFK003L4 | TERYX2LVL4 | Kawasaki Teryx2 Rear Firing Top, NA30C BT Radio, Aux In, Four AFEVO2 8" Speakers W/"IC" LED'S, Four Rear Firing AFEVO2 6.5" Speakers W/"IC" LED'S, Ic LED Speaker Rings, Ic LED Controller, One Mm800.4 Amp, Four 20 Watt Front LED Lights, One Rear LED Light |
| | | |
| AFK001L1 | TERYX4LVL1 | Kawasaki Teryx4 Top, Audioformz PMC1 BT Radio, Four AFEVO 8" Speakers |
| AFK001L2 | TERYX4LVL2 | Kawasaki Teryx4 Top, Audioformz PMC1 BT Radio, Four AFEVO 8" Speakers, Four 20 Watt Front LED Lights, One Rear LED Light |
| AFK001L3 | TERYX4LVL3 | Kawasaki Teryx4 Top, NA30C BT Radio, Four AFEVO2 8" Speakers W/"IC" LED'S, Ic LED Controller, One Mm800.4 Amp Amp, Four 20 Watt LED Lights, One Rear LED Light |
| AFK001L4 | TERYX4LVL4 | Kawasaki Teryx4 Sub Top, NA30C BT Radio, Aux In, Four AFEVO2 8" Speakers W/"IC"LEDs, Ic LED Speaker Rings, Ic LED Controller, Two 12" Audioformz Subwoofers, One Mm800.4 Amp, Four 20 Watt Front LED Lights, One Rear LED Light |
| AFK001L5 | TERYX4LVL5 | Kawasaki Teryx4 Sub Top, NA30C BT Radio, Aux In, Four AFEVOpro2 8" Speakers W/"IC" LED'S, Ic LED Speaker Rings, Ic LED Controller, Two 12" Audioformz Subwoofers, One Mm800.4 Amp, Four 20 Watt Front LED Lights, 3-Rear LED Lights |
| | | |
| AFK006L1 | KRX1000LVL1 | Kawasaki Krx 1000 Top, Audioformz PMC1 BT Radio, Four 8Evo 8" Speakers |
| AFK006L2 | KRX1000LVL2 | Kawasaki Krx 1000 Top, Audioformz PMC1 BT Radio, Four Evo 8" Speakers, Front 40" Single Row LED Light Bar, One Flush Rear LED Light |
| AFK006L3 | KRX1000LVL3 | Kawasaki Krx 1000 Top, NA30C BT Radio, Four Evo2 8" Speakers W/"IC" LED'S, Ic LED Controller, One Mm800.4 Amp, Front 40" Single Row LED Light Bar , One Flush Rear LED Light |
| Legacy PN | MPN | Description |
| | | Kawasaki Models |
| AFK006L4 | KRX1000LVL4 | Kawasaki Krx 1000 Top, NA30C BT Radio, Aux In, Four Evo2 8" Speakers W/"IC" LED'S, Ic LED Speaker Rings, Ic LED Controller, Two 10" Audioformz Subwoofers, One Mm800.4 Amp, Front 40" Single Row LED Light Bar, One Flush Rear LED Light |
| AFK006L5 | KRX1000LVL5 | Kawasaki Krx 1000 Top, NA30C BT Radio, Four Evopro2 8" Speakers W/"IC" LED'S, Ic LED Speaker Rings, One Pair Evopro2 Ic LED Tower Speakers, Ic LED Controller, Two 10" Audioformz Subwoofers, Two Mm800 Amplifiers, Front 40" Single Row LED Light Bar, One Flush Rear LED Light |
| | | Polaris Models |
| AFP005L1 | RZR1000LVL1 | Polaris RZR 1000/900 Top, Audioformz PMC1 BT Radio, Four AFEVO 8" Speakers |
| AFP005L2 | RZR1000LVL2 | Polaris RZR 1000/900 Top, Audioformz PMC1 BT Radio, Four AFEVO 8" Speakers, Four Front 20 Watt LED Lights, One 20 Watt Rear LED Light  |
| AFP005L3 | RZR1000LVL3 | Polaris RZR 1000/900 Top, NA30C BT Radio, Four AFEVO2 8" Speakers W/ "IC" LEDs, Ic LED Controller, One Mm800.4 Amp, Four Front 20 Watt LED Lights, One 20 Watt Rear LED Light  |
| AFP005L4 | RZR1000LVL4 | Polaris RZR 1000/900 Rear Firing Top, NA30C BT Radio, Aux In Plug, Four Interior AFEVO2 8" Speakers W/ "IC" LEDs, Two Rear Firing Evo2 8" Speakers W/ "IC" LED, Ic LED Speaker Rings, Ic LED Controller, One Mm800.4 Amp, Four Front 20 Watt LED Lights, One 20 Watt Rear LED Light  |
| AFP005L5 | RZR1000LVL5 | Polaris RZR 1000/900 Rear Firing Sub Top, NA30C BT Radio, Aux In Plug, Two Interior AFEVOpro2 8" Speakers W/ "IC" LED'S, Two Rear Firing AFEVOpro2 8" Speakers W/ "IC" LED'S, Ic LED Speaker Rings, Ic LED Controller, Two 10" Audioformz Subs, One Mm800.4 Amp, Four Front 20 Watt LED Lights, One 20 Watt Rear LED Light  |
| AFP005L6 | RZR1000LVL6 | Call For Details |
| | | |
| AFP006L1 | RZR4LVL1 | Polaris RZR4 1000/900 Top, Audioformz PMC1 BT Radio, Four AFEVO 8" Speakers |
| AFP006L2 | RZR4LVL2 | Polaris RZR4 1000/900 Top, Audioformz PMC1 BT Radio, Four AFEVO 8" Speakers, Four Front 20 Watt LED Lights, One 20 Watt Rear LED Light |
| AFP006L3 | RZR4LVL3 | Polaris RZR4 1000/900 Top, NA30C BT Radio, Four Evo2 8" Speakers W/ "IC" LED'S, Ic LED Controller, One Mm800.4 Amp, Four Front 20 Watt LED Lights, One 20 Watt Rear LED Light |
| AFP006L4 | RZR4LVL4 | Polaris RZR4 1000/900 Sub Top, NA30C BT Radio, Aux In Plug, Four AFEVO2 8" Speakers W/ "IC" LED'S, Ic LED Speaker Rings, Ic LED Controller, Two 10" Audioformz Subwoofers, One Mm800.4 Amp, Four Front 20 Watt LED Lights, One 20 Watt Rear LED Light |
| AFP006L5 | RZR4LVL5 | Polaris RZR4 1000/900 Rear Firing Sub Top, NA30C BT Radio, Aux In Plug, Four Interior AFEVOpro2 8" Speakers W/ "IC" LED'S, Two Rear Firing AFEVOpro2 8" Speakers W/ "IC" LED'S, Ic LED Speaker Rings And Controller, Two Audioformz 10" Subwoofers, Two Audioformz Mm800 Amplifiers, Four Front 20 Watt LED Lights, One 20 Watt Rear LED Light |
| AFP006L6 | RZR4LVL6 | Call For Details |
| | | |
| AFP008L1 | RZR570LVL1 | Polaris RZR 570 Top, Audioformz PMC1 BT Radio, Two Interior AFEVO2 6.5" Speakers, Two Rear Firing AFEVO2 6.5" Speakers |
| AFP008L2 | RZR570LVL2 | Polaris RZR 570 Top, Audioformz PMC1 BT Radio, Two Interior AFEVO2 6.5" Speakers W/"IC" LEDs, Two Rear Firing AFEVO2 6.5" Speakers W/"IC" LEDs, Ic LED Controller, Four Front 10 Watt Round LED Lights, One Rear 10 Watt Round LED Light |
| AFP008L3 | RZR570LVL3 | Polaris RZR 570 Top, NA30C BT Radio, Two Interior AFEVO2 6.5" Speakers W/"IC" LED'S, Two Rear Firing AFEVO2 6.5" Speakers W/"IC" LED, Ic LED Controller, One Mm800.4 Amp, Four Front 10 Watt Round LED Lights, One Rear 10 Watt Round LED Light |
| | | |
| AFP007L1 | RZR170LVL1 | Polaris RZR 170 Top, Audioformz PMC1 BT Radio, Two AFEVO2 6.5" Speakers |
| AFP007L2 | RZR170LVL2 | Polaris RZR 170 Top, Audioformz PMC1 BT Radio, Two AFEVO2 6.5" Speakers W/"IC" LEDs, Ic LED Controller, Four Front 10 Watt Round LED Lights, One Rear 10 Watt Round LED Light |
| AFP007L3 | RZR170LVL3 | Polaris RZR 170 Top, Audioformz PMC1 BT Radio, Two AFEVO2 6.5" Speakers W/"IC" LED'S, Ic Speaker Rings, Ic LED Controller, Four Front 10 Watt Round LED Lights, One Rear 10 Watt Round LED Light |
| | | |
| AFP010L1 | RS1LVL1 | Polaris Rs1 Top, Audioformz PMC1 BT Radio, Two AFEVO 8" Speakers |
| AFP010L2 | RS1LVL2 | Polaris Rs1 Top, Audioformz PMC1 BT Radio, Two AFEVO 8" Speakers, Front 20" LED Light Bar,  Rear LED Light  |
| AFP010L3 | RS1LVL3 | Polaris Rs1 Top, NA30C BT Radio, Two AFEVO2 8" Speakers W/ "IC" LEDs, Ic LED Controller , Mm800.4 Amp, Front 20" Light Bar,  Rear LED Light |
| AFP010L4 | RS1LVL4 | Polaris Rs1 Top, NA30C BT Radio, Two AFEVO2 8" Speakers W/ "IC" LED'S, 1 Pr AFEVO 8", Ic Tower Speakers, Ic LED Speaker Rings And Controller, Mm800.4 Amp, Front 20" LED Light Bar,  Rear LED Light |
| | | |
| AFP011L1 | RZRTSLVL1 | Polaris RZR Turbo S Top, Audioformz PMC1 BT Radio, Four AFEVO 8" Speakers |
| AFP011L2 | RZRTSLVL2 | Polaris RZR Turbo S Top, Audioformz PMC1 BT Radio, Four AFEVO 8" Speakers, Front 30" Flood/Spot Light Bar, Rear LED Light |
| AFP011L3 | RZRTSLVL3 | Polaris RZR Turbo S Top, NA30C BT Radio, Four AFEVO2 8" Speakers W/ "IC" LED'S, Ic LED Controller,  One Mm800.4 Amp, Front 30" Flood/Spot Light Bar, Rear LED Light |
| AFP011L4 | RZRTSLVL4 | Polaris RZR Turbo S Sub Top, NA30C BT Radio, Aux In Plug, Two Interior AFEVO2 8" Speakers W/ "IC" LED'S, "IC" LED Speaker Rings, Ic LED Controller, 2 10" Audioformz Subs, One Mm800.4 Amp, Front 30" Flood/Spot Light Bar, Rear LED Light  |
| AFP011L5 | RZRTSLVL5 | Polaris RZR Turbo S Pro Sub Top, NA30C BT Radio, Aux In Plug, Two Interior AFEVOpro2 8" Speakers W/ "IC" LED'S, One Pair 8" Evopro2 "IC" LED Tower Speakers, "Ic LED Speaker Rings, Ic LED Controller, Two 10" Audioformz Subs, One Mm800 Amplifier, Front 30" Flood/Spot Light Bar, Rear LED Light |
| AFP011L6 | RZRTSLVL6 | Call For Details |
| Legacy PN | MPN | Description |
| | | Polaris Models |
| AFP012L1 | RZR4TSLVL1 | Polaris RZR4 Turbo S Top, Audioformz PMC1 BT Radio, Four AFEVO 8" Speakers |
| AFP012L2 | RZR4TSLVL2 | Polaris RZR4 Turbo S Top, Audioformz PMC1 BT Radio, Four AFEVO 8" Speakers, Front 30" Flood/Spot Light Bar, Rear LED Light |
| AFP012L3 | RZR4TSLVL3 | Polaris RZR4 Turbo S Top, NA30C BT Radio, Four AFEVO2 8" Speakers W/ "IC" LED'S , Ic LED Controller,  One Mm800.4 Amp, Front 30" Flood/Spot Light Bar, Rear LED Light |
| AFP012L4 | RZR4TSLVL4 | Polaris RZR4 Turbo S Sub Top, NA30C BT Radio, Aux In Plug, Four Interior AFEVO2 8" Speakers W/"IC" LED'S, Ic LED Speaker Rings, Ic LED Controller, Two 10" Audioformz Subwoofers, One Mm800.4 Amp, Front 30" Flood/Spot Light Bar, Rear LED Light  |
| AFP012L5 | RZR4TSLVL5 | Polaris RZR4 Turbo S Pro Sub Top, NA30C BT Radio, Aux In Plug, Four Interior AFEVOpro2 8" Speakers W/"IC" LED'S, Ic LED Speaker Rings, Ic LED Controller, Two 10" Audioformz Subwoofers, Af Roof Port, Two Mm800 Series Amplifiers, Front 30" Flood/Spot Light Bar, Rear LED Light |
| AFP012L6 | RZR4TSLVL6 | Call For Details |
| | | |
| AFP013L1 | RZRPROXPLVL1 | Polaris RZR Pro Top, Audioformz PMC1 BT Radio, Four AFEVO 8" Speakers |
| AFP013L2 | RZRPROXPLVL2 | Polaris RZR Pro XP Top, Audioformz PMC1 BT Radio, Four AFEVO 8" Speakers, Front 30" Flood/Spot Light Bar, Rear LED Light |
| AFP013L3 | RZRPROXPLVL3 | Polaris RZR Pro XP Top, NA30C BT Radio, Four AFEVO2 8" Speakers W/ "IC" LED'S, Ic LED Controller,  One Mm800.4 Amp, Front 30" Flood/Spot Light Bar, Rear LED Light |
| AFP013L4 | RZRPROXPLVL4 | Polaris RZR Pro XP Top, NA30C BT Radio, Aux In Plug, Six Interior AFEVO2 8" Speakers W/ "IC" LED'S, "IC" LED Speaker Rings, Ic LED Controller, One Mm800.4 Amp, Front 30" Flood/Spot Light Bar, Rear LED Light  |
| AFP013L5 | RZRPROXPLVL5 | Polaris RZR Pro XP Top, NA30C BT Radio, Aux In Plug, Six Interior AFEVOpro2 8" Speakers W/ "IC" LED'S, One Pair 8" Evopro2 "IC" LED Tower Speakers, "Ic LED Speaker Rings, Ic LED Controller, One Mm800.4 Amp, Front 30" Flood/Spot Light Bar, Rear LED Light |
| AFP013L6 | RZRPROXPLVL6 | Call For Details |
| | | |
| AFP014L1 | RZR4PROXPLVL1 |  Top, Audioformz PMC1 BT Radio, 4-Audioformz Evo 8″ Speakers. |
| AFP014L2 | RZR4PROXPLVL2 | Top, Audioformz PMC1 BT Radio, 4-Audioformz Evo 8″ Speakers, 1 – 30″ Audioformz Flood/Spot Combo LED Light Bar, 1-Rear LED Light |
| AFP014L3 | RZR4PROXPLVL3 | Top, Hertz Hmr20 BT Radio, 4-Audioformz Evo2 8″ Ic LED Speakers With Ic LED Controller, Audioformz 800W Multi-Mount Amplifier, 1 – 30″ Audioformz Flood/Spot Combo LED Light Bar, 1-Rear LED Light. |
| AFP014L4 | RZR4PROXPLVL4 | Top, Hertz Hmr20 BT Radio, 6-Audioformz Evo2 8″ Ic LED Speakers With Ic LED Speaker Rings, Ic LED Controller, Audioformz 800W Multi-Mount Amplifier,1 – 30″ Audioformz Flood/Spot Combo LED Light Bar , 1-Rear LED Light. |
| AFP014L5 | RZR4PROXPLVL5 | Pro Top, Hertz Hmr20 BT Radio, 6-Audioformz Evo Pro2 8″ Ic LED Speakers With Ic LED Speaker Rings, Ic LED Controller, Audioformz 800W Multi-Mount Amplifiers, 1 – 30″ Audioformz Flood/Spot Combo LED Light Bar, 1-Rear LED Lights. |
| AFP014L6 | RZR4PROXPLVL6 | Call For Details |
| | | |
| AFP003L1 | RNG1000LVL1 | Polaris Ranger XP1000/900 Top, Audioformz PMC1 BT Radio, Four AFEVO 8" Speakers |
| AFP003L2 | RNG1000LVL2 | Polaris Ranger XP1000/900 Top, Audioformz PMC1 BT Radio, Four AFEVO 8" Speakers, Four 20 Watt Front LED Lights, One 20 Watt Rear LED Light |
| AFP003L3 | RNG1000LVL3 | Polaris Ranger XP1000/900 Top, NA30C BT Radio , Four AFEVO2 8" Speakers W/"Ic LED'S, Ic LED Controller, Mm800.4 Amp, Four 20 Watt Front LED Lights,  One 20 Watt Rear LED Light |
| AFP003L4 | RNG1000LVL4 | Polaris Ranger XP1000/900 Rear Firing Top, NA30C BT Radio Aux In Plug, Four Interior AFEVO2 8" Speakers W/"IC" LED'S, Four Rear Firing AFEVO2 6.5" Speakers W/"IC" LED'S, Ic Speaker Rings, Ic LED Controller, One Mm800.4 Amp, Four 20 Watt Front LED Lights, One 20 Watt Rear LED Light |
| AFP003L5 | RNG1000LVL5 | Polaris Ranger XP1000/900 Rear Firing Top, NA30C BT Radio, Aux In Plug, Four Interior AFEVOpro2 8" Speakers W/"IC" LED'S, Four Rear Firing AFEVO2 6.5" Speakers W/"IC" LED'S, Ic LED Speaker Rings, Ic LED Controller, Two Mm800 Amplifiers, Dual 12 Ported Bed Box, Four 20 Watt Front LED Lights, One 20 Watt Rear LED Light |
| | | |
| AFP004L1 | RNGCREW1000LVL1 | Polaris Ranger Crew XP1000/900 Top, Audioformz PMC1 BT Radio, Four AFEVO 8" Speakers |
| AFP004L2 | RNGCREW1000LVL2 | Polaris Ranger Crew XP1000/900 Top, Audioformz PMC1 BT Radio, Four AFEVO 8" Speakers, Four 20 Watt Front LED Lights, One 20 Watt Rear LED Light |
| AFP004L3 | RNGCREW1000LVL3 | Polaris Ranger Crew XP1000/900 Top, NA30C BT Radio, Four AFEVO2 8" Speakers W/ "IC" LED'S, Ic LED Controller, One Mm800.4 Amp, Four 20 Watt Front LED Lights,One 20 Watt Rear LED Light |
| AFP004L4 | RNGCREW1000LVL4 | Polaris Ranger Crew XP1000/900 Sub Top, NA30C BT Radio, Aux In Plug, Four AFEVO2 8" Speakers W/"IC" LED'S, Ic LED Speaker Rings, Ic LED Controller, Two 10" Audioformz Subwoofers, One Mm800.4 Amp, Four 20 Watt Front LED Lights, One 20 Watt Rear LED Light |
| AFP004L5 | RNGCREW1000LVL5 | Polaris Ranger Crew XP1000/900 Rear Firing Sub Top, NA30C BT Radio, Aux In Plug, Four Interior AFEVOpro2 8" Speakers W/"Ic LED'S, Four Rear Firing AFEVO2 6.5" Speakers W/"IC" LED'S, Ic LED Speaker Rings And Ic Controller, Two Audioformz 10" Subwoofers, Two Mm800 Amplifiers, Four 20 Watt Front LED Lights, One 20 Watt Rear LED Light |
| | | |
| AFPSBL1 | RNG1000SBLVL1 | Ranger (All) Fiberglass Sound Bar, Audioformz PMC1 BT Radio, Two AFEVO2 6.5" Speakers |
| AFPSBL2 | RNG1000SBLVL2 | Ranger (All) Fiberglass Sound Bar, Audioformz PMC1 BT Radio, Four AFEVO2 6.5" Speakers W/Ic LEDs, Ic LED Controller |
| AFPSBL3 | RNG1000SBLVL3 | Ranger (All) Fiberglass Sound Bar, NA30C BT Radio, One Mm800.4 Amp, Four AFEVO2 6.5" Speakers W/ "IC" LED'S, Ic LED Speaker Rings With Ic LED Controller |
| Legacy PN | MPN | Description |
| | | Polaris Models |
| AFP009L1 | RNG150LVL1 | Polaris Ranger 150 Top, Audioformz PMC1 BT Radio, Two Af65Evo2 6.5" Speakers |
| AFP009L2 | RNG150LVL2 | Polaris Ranger 150 Top, Audioformz PMC1 BT Radio, Two AFEVO 6.5" Speakers W/ "IC" LED'S And Ic Controller, Front 20" LED Light Bar,  Rear Cargo Light  |
| AFP009L3 | RNG150LVL3 | Polaris Ranger 150  Top, Audioformz PMC1 BT Radio, Four AFEVO 6.5" Speakers W/ "IC" LED'S, Ic Speaker Rings & Controller, Front 20" Light Bar,  Rear Cargo Light |
| | | |
| AFP002L1 | GEN1000LVL1 | Polaris General 1000 Top, Audioformz PMC1 BT Radio, Four AFEVO 8" Speakers |
| AFP002L2 | GEN1000LVL2 | Polaris General 1000 Top, Audioformz PMC1 BT Radio, Four AFEVO 8" Speakers, Six Front 20 Watt LED Lights, One 20 Watt Rear LED Light |
| AFP002L3 | GEN1000LVL3 | Polaris General 1000 Top, NA30C BT Radio, Four AFEVO2 8" Speakers W/"Ic' LED'S, Ic LED Controller, One Mm800.4 Amp, Six Front 20 Watt LED Lights, One 20 Watt Rear LED Light |
| AFP002L4 | GEN1000LVL4 | Polaris General 1000 Top, NA30C BT Radio, Aux In Plug, Six AFEVO2 8" Speakers W"IC" LED'S, Ic LED Speaker Rings With Ic LED Controller, One Mm800.4 Amp, Six Front 20 Watt LED Lights, One 20 Watt Rear LED Light |
| AFP002L5 | GEN1000LVL5 | Polaris General 1000 Top, NA30C BT Radio, Aux In Plug, Six AFEVOpro2 8" Speakers W/"IC" LED'S, Ic LED Speaker Rings, Ic LED Controller, One Mm800.4 Amp, Six Front 20 Watt LED Lights, Three 20 Watt Rear LED Lights |
| | | |
| AFP001L1 | GEN4LVL1 | Polaris General4 1000 Top, Audioformz PMC1 BT Radio, Four AFEVO 8" Speakers |
| AFP001L2 | GEN4LVL2 | Polaris General4 1000 Top, Audioformz PMC1 BT Radio, Four AFEVO 8" Speakers, Six Front 20 Watt LED Lights, One 20 Watt Rear LED Light |
| AFP001L3 | GEN4LVL3 | Polaris General4 1000 Top, NA30C BT Radio, Four AFEVO2 8" Speakers W/"IC" LED'S, Ic LED Speaker Rings, Ic LED Controller, Mm800.4 Amp, Six Front 20 Watt LED Lights, One 20 Watt Rear LED Light |
| AFP001L4 | GEN4LVL4 | Polaris General4 1000 Sub Top, NA30C BT Radio, Aux In Plug, Four AFEVO2 8" Speakers W/"IC" LED'S, Ic LED Speaker Rings, Ic LED Controller, Two 10" Audioformz Subwoofers,  One Mm800.4 Amp, Six Front 20 Watt LED Lights, One 20 Watt Rear LED Light |
| AFP001L5 | GEN4LVL5 | Polaris General4 1000 Sub Top, NA30C BT Radio, Aux In Plug, Eight AFEVOpro2 8" Speakers W/"IC" LED'S, Ic LED Speaker Rings, Ic LED Controller, Two 10" Audioformz Subwoofers, Two Mm800 Amplifiers, Six Front 20 Watt LED Lights, Three 20 Watt Rear LED Lights |
| | | Yamaha Models |
| AFY001L1 | VIKINGLVL1 | Yamaha Viking Top, Audioformz PMC1 BT Radio, Four AFEVO 8" Speakers |
| AFY001L2 | VIKINGLVL2 | Yamaha Viking Top, Audioformz PMC1 BT Radio, Four AFEVO 8" Speakers, Four 20 Watt Front LED Lights,  One Rear LED Light |
| AFY001L3 | VIKINGLVL3 | Yamaha Viking Top, NA30C BT Radio, Four AFEVO2 8" Speakers W/"IC" LED'S, Ic LED Controller, One Mm800.4 Amp, Four 20 Watt Front LED Lights, One Rear LED Light |
| AFY001L4 | VIKINGLVL4 | Yamaha Rear Firing Viking Top, NA30C BT Radio, Aux In, Four Interior AFEVO2 8" Speakers W/"IC" LED'S, Four Rear Firing AFEVO2 8" W/"IC" LED'S, Ic LED Speaker Rings, Ic LED Controller, One Mm800.4 Amp, Four 20 Watt Front LED Lights, One Rear LED Light |
| AFY001L5 | VIKINGLVL5 | Yamaha Viking Sub Top, NA30C BT Radio, Aux In, Four AFEVOpro2 8" Speakers W/"IC" LED'S, Ic LED Speaker Rings, Ic LED Controller,  Two 10" Audioformz Subwoofers, One Mm800.4, Four 20 Watt Front LED Lights, One Rear LED Light |