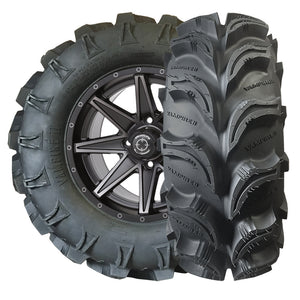 Interco Vampire 2
• Next generation of Vampire ATV tires from Interco and a perfect example of Interco's constant pursuit of performance.
• All-terrain and all-weather tire that performs as well as it looks.
• Unique lug design and pattern is designed for great self-clearing of mud, snow, and slush with ground biting power and superior traction that makes riding on these tires a great experience for the nearly every rider in nearly every riding condition.
| | |
| --- | --- |
| Tire Size | Part # |
| 25x8-12 | V11-500 |
| 25x10-12 | V11-510 |
| 26x9-12 | V11-580 |
| 26x10-12 | V11-590 |
| 27x9-12 | V11-520 |
| 27x11-12 | V11-530 |
| 27x9-14 | V11-540 |
| 27x11-14 | V11-550 |
| 28x9-14 | V11-560 |
| 28x11-14 | V11-570 |