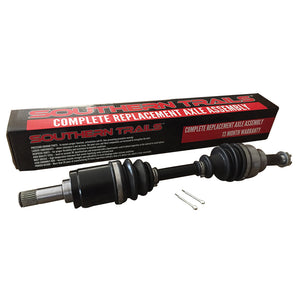 Southern Trails Axles- Can-Am Applications
• Precision Ground Parts to ensure proper function, articulation and fit, thus preventing premature wearing.
• Larger Components – where clearance is not an issue, the joint sizes and their components are increased to strengthen the units.
• Neoprene Boots for proper flexibility and resistance to harmful conditions.
• High Quality Steel that meet or exceeds OE specifications and inspected with a Spectrometer used to detect impurities in the material to avoid failures.
• Moly Grease – high temperature tolerance that avoids liquefying under extreme heat.
• 4340 Chromoly Bar – increases tensile strength and malleability to resist breakage under extreme conditions.
• 13 Month Warranty
| | | | | | |
| --- | --- | --- | --- | --- | --- |
| CAN-AM | | | | | |
| 2020-2016 | COMMANDER 800R  | AXC8113 | AXC8213 | AXC8333 | AXC8333 |
| 2015-2011 | COMMANDER 800R  | AXC8113 | AXC8213 | AXC8306/8320 | AXC8306/8320 |
| 2020-2016 | COMMANDER 800R DPS | AXC8113 | AXC8213 | AXC8333 | AXC8333 |
| 2015-2013 | COMMANDER 800R DPS | AXC8113 | AXC8213 | AXC8306/8320 | AXC8306/8320 |
| 2020-2016 | COMMANDER 800R XT | AXC8113 | AXC8213 | AXC8333 | AXC8333 |
| 2015-2011 | COMMANDER 800R XT | AXC8113 | AXC8213 | AXC8306/8320 | AXC8306/8320 |
| 2020-2017 | COMMANDER MAX 800R DPS | AXC8113 | AXC8213 | AXC8333 | AXC8333 |
| 2017 | COMMANDER 1000 | AXC8113 | AXC8213 | AXC8333 | AXC8333 |
| 2016 | COMMANDER 1000 | AXC8120 | AXC8213 | AXC8333 | AXC8333 |
| 2015-2013 | COMMANDER 1000 | AXC8120 | AXC8220 | AXC8306/8320 | AXC8306/8320 |
| 2012-2011 | COMMANDER 1000 | AXC8113 | AXC8213 | AXC8306/8320 | AXC8306/8320 |
| 2018-2017 | COMMANDER 1000 DPS | AXC8131 | AXC8132 | AXC8333 | AXC8333 |
| 2016 | COMMANDER 1000 DPS | AXC8120 | AXC8220 | AXC8333 | AXC8333 |
| 2015-2013 | COMMANDER 1000 DPS | AXC8120 | AXC8220 | AXC8306/8320 | AXC8306/8320 |
| CAN-AM | | | | | |
| YEAR(S) | MODEL | FRONT LEFT | FRONT RIGHT | REAR LEFT | REAR RIGHT |
| 2018-2017 | COMMANDER 1000 LTD | AXC8131 | AXC8132 | AXC8333 | AXC8333 |
| 2016 | COMMANDER 1000 LTD | AXC8120 | AXC8220 | AXC8333 | AXC8333 |
| 2015-2013 | COMMANDER 1000 LTD | AXC8120 | AXC8220 | AXC8306/8320 | AXC8306/8320 |
| 2012 | COMMANDER 1000 LTD | AXC8113 | AXC8213 | AXC8306/8320 | AXC8306/8320 |
| 2013-2011 | COMMANDER 1000 X | AXC8113 | AXC8213 | AXC8306/8320 | AXC8306/8320 |
| 2018-2017 | COMMANDER 1000 XT | AXC8131 | AXC8132 | AXC8333 | AXC8333 |
| 2016 | COMMANDER 1000 XT | AXC8120 | AXC8220 | AXC8333 | AXC8333 |
| 2015-2013 | COMMANDER 1000 XT | AXC8120 | AXC8220 | AXC8306/8320 | AXC8306/8320 |
| 2012-2011 | COMMANDER 1000 XT | AXC8113 | AXC8213 | AXC8306/8320 | AXC8306/8320 |
| 2017 | COMMANDER 1000 XT-P | AXC8131 | AXC8132 | AXC8333 | AXC8333 |
| 2016 | COMMANDER 1000 XT-P | AXC8120 | AXC8220 | AXC8333 | AXC8333 |
| 2015-2014 | COMMANDER 1000 XT-P | AXC8120 | AXC8220 | AXC8306/8320 | AXC8306/8320 |
| 2018-2017 | COMMANDER MAX 1000 DPS | AXC8131 | AXC8132 | AXC8333 | AXC8333 |
| 2016 | COMMANDER MAX 1000 DPS | AXC8120 | AXC8220 | AXC8333 | AXC8333 |
| 2015-2014 | COMMANDER MAX 1000 DPS | AXC8120 | AXC8220 | AXC8306/8320 | AXC8306/8320 |
| 2018-2017 | COMMANDER MAX 1000 LTD | AXC8131 | AXC8132 | AXC8333 | AXC8333 |
| 2016 | COMMANDER MAX 1000 LTD | AXC8120 | AXC8220 | AXC8333 | AXC8333 |
| 2015 | COMMANDER MAX 1000 LTD | AXC8120 | AXC8220 | AXC8306/8320 | AXC8306/8320 |
| 2020-2018 | COMMANDER 1000R DPS | AXC8113 | AXC8213 | AXC8333 | AXC8333 |
| 2020-2018 | COMMANDER 1000R  | AXC8113 | AXC8213 | AXC8333 | AXC8333 |
| 2020-2018 | COMMANDER 1000R LTD | AXC8113 | AXC8213 | AXC8333 | AXC8333 |
| 2020-2018 | COMMANDER 1000R XT | AXC8113 | AXC8213 | AXC8333 | AXC8333 |
| 2018 | COMMANDER MAX 1000R DPS | AXC8113 | AXC8213 | AXC8333 | AXC8333 |
| 2020-2019 | COMMANDER MAX 1000R LTD | AXC8113 | AXC8213 | AXC8333 | AXC8333 |
| 2020-2018 | COMMANDER MAX 1000R XT | AXC8113 | AXC8213 | AXC8333 | AXC8333 |
| DEFENDER | | | | | |
| 2021-2017 | DEFENDER HD5  | AXC8125 | AXC8225 | AXC8309 | AXC8310 |
| 2021-2017 | DEFENDER HD5 DPS | AXC8125 | AXC8225 | AXC8309 | AXC8310 |
| 2021-2016 | DEFENDER HD8  | AXC8125 | AXC8225 | AXC8330 | AXC8330 |
| 2021-2016 | DEFENDER HD8 DPS  | AXC8125 | AXC8225 | AXC8330 | AXC8330 |
| 2019-2018 | DEFENDER HD8 CAB  | AXC8125 | AXC8225 | AXC8330       AXC8330 | AXC8330       AXC8330 |
| 2021-2020 | DEFENDER HD8 DPS CAB  | 705402450 | 705402449 | AXC8330       AXC8330 | AXC8330       AXC8330 |
| 2021-2016 | DEFENDER HD8 XT  | AXC8125 | AXC8225 | AXC8330 | AXC8330 |
| 2020 | DEFENDER HD8 XT CAB  | 705402450 | 705402449 | AXC8330       AXC8330 | AXC8330       AXC8330 |
| 2019-2018 | DEFENDER HD8 XT CAB  | AXC8125 | AXC8225 | AXC8330       AXC8330 | AXC8330       AXC8330 |
| 2018-2016 | DEFENDER HD10  | AXC8125 | AXC8225 | AXC8330 | AXC8330 |
| 2021-2020 | DEFENDER HD10 DPS | AXC8134 | AXC8133 | AXC8313 | AXC8313 |
| 2019-2016 | DEFENDER HD10 DPS  | AXC8125 | AXC8225 | AXC8330 | AXC8330 |
| 2020 | DEFENDER HD10 CAB | 705402450 | 705402449 | AXC8330       AXC8330 | AXC8330       AXC8330 |
| 2019 | DEFENDER HD10 CAB | AXC8125 | AXC8225 | AXC8330       AXC8330 | AXC8330       AXC8330 |
| 2020 | DEFENDER HD10 HUNTING | AXC8134 | AXC8133 | AXC8313 | AXC8313 |
| 2019-2017 | DEFENDER HD10 HUNTING | AXC8125 | AXC8225 | AXC8330 | AXC8330 |
| 2021-2020 | DEFENDER HD10 LTD | 705402450 | 705402449 | AXC8330       AXC8330 | AXC8330       AXC8330 |
| 2021-2019 | DEFENDER HD10 XMR  | 705402420 | 705402420 | AXC8330       AXC8330 | AXC8330       AXC8330 |
| 2018 | DEFENDER HD10 XMR  | 705402228 | 705402228 | AXC8330       AXC8330 | AXC8330       AXC8330 |
| 2021-2020 | DEFENDER HD10 XT | AXC8134 | AXC8133 | AXC8313 | AXC8313 |
| 2019-2016 | DEFENDER HD10 XT | AXC8125 | AXC8225 | AXC8330 | AXC8330 |
| 2020 | DEFENDER HD10 XT-P  | AXC8134 | AXC8133 | AXC8313 | AXC8313 |
| 2019-2018 | DEFENDER HD10 XT-P  | AXC8125 | AXC8225 | AXC8330 | AXC8330 |
| 2020 | DEFENDER HD10 XT CAB | 705402450 | 705402449 | AXC8330       AXC8330 | AXC8330       AXC8330 |
| 2019-2018 | DEFENDER HD10 XT CAB | AXC8125 | AXC8225 | AXC8330       AXC8330 | AXC8330       AXC8330 |
| 2017-2016 | DEFENDER HD10 XT CAB | AXC8125 | AXC8225 | AXC8330 | AXC8330 |
| 2021-2020 | DEFENDER HD10 6X6 DPS  | AXC8134 | AXC8133 | AXC8313 | AXC8313 |
| 2021-2017 | DEFENDER MAX HD8  | AXC8125 | AXC8225 | AXC8330 | AXC8330 |
| 2021-2017 | DEFENDER MAX HD8 DPS  | AXC8125 | AXC8225 | AXC8330 | AXC8330 |
| 2020-2019 | DEFENDER MAX HD8 CAB  | AXC8125 | AXC8225 | AXC8330       AXC8330 | AXC8330       AXC8330 |
| 2021-2017 | DEFENDER MAX HD8 XT  | AXC8125 | AXC8225 | AXC8330 | AXC8330 |
| 2021-2020 | DEFENDER MAX HD10 DPS | AXC8134 | AXC8133 | AXC8313 | AXC8313 |
| 2019-2017 | DEFENDER MAX HD10 DPS | AXC8125 | AXC8225 | AXC8330 | AXC8330 |
| CAN-AM | | | | | |
| YEAR(S) | MODEL | FRONT LEFT | FRONT RIGHT | REAR LEFT | REAR RIGHT |
| 2021-2020 | DEFENDER MAX HD10 LTD | 705402450 | 705402449 | AXC8330       AXC8330 | AXC8330       AXC8330 |
| 2021-2020 | DEFENDER MAX HD10 LONE STAR | 705402450 | 705402449 | AXC8330       AXC8330 | AXC8330       AXC8330 |
| 2019-2018 | DEFENDER MAX HD10 LONE STAR | AXC8125 | AXC8225 | AXC8330       AXC8330 | AXC8330       AXC8330 |
| 2021-2020 | DEFENDER MAX HD10 XMR | 705402420 | 705402420 | AXC8330       AXC8330 | AXC8330       AXC8330 |
| 2021-2020 | DEFENDER MAX HD10 XT | AXC8134 | AXC8133 | AXC8313 | AXC8313 |
| 2019-2017 | DEFENDER MAX HD10 XT  | AXC8125 | AXC8225 | AXC8330 | AXC8330 |
| 2020-2018 | DEFENDER MAX HD10 XT CAB | AXC8125 | AXC8225 | AXC8330       AXC8330 | AXC8330       AXC8330 |
| 2021-2020 | DEFENDER PRO HD10 | AXC8134 | AXC8133 | AXC8313 | AXC8313 |
| 2021-2020 | DEFENDER PRO HD10 XT  | AXC8134 | AXC8133 | AXC8313 | AXC8313 |
| MAVERICK | | | | | |
| 2021-2020 | MAVERICK TRAIL 800  | AXC8130 | AXC8230 | AXC8332 | AXC8332 |
| 2019 | MAVERICK TRAIL 800 (with ABS Brakes) | 705402442 | 705402442 | 705502755 | 705502755 |
| 2019 | MAVERICK TRAIL 800 (w/o ABS Brakes) | AXC8130 | AXC8230 | AXC8332 | AXC8332 |
| 2021-2020 | MAVERICK TRAIL 800 DPS | AXC8130 | AXC8230 | AXC8332 | AXC8332 |
| 2019 | MAVERICK TRAIL 800 DPS (with ABS Brakes) | 705402442 | 705402442 | 705502755 | 705502755 |
| 2019 | MAVERICK TRAIL 800 DPS (w/o ABS Brakes) | AXC8130 | AXC8230 | AXC8332 | AXC8332 |
| 2018 | MAVERICK TRAIL 800R | AXC8130 | AXC8230 | AXC8332 | AXC8332 |
| 2018 | MAVERICK TRAIL 800R DPS | AXC8130 | AXC8230 | AXC8332 | AXC8332 |
| 2018-2016 | MAVERICK 1000 DPS | AXC8117 | AXC8217 | AXC8307 | AXC8307 |
| 2016 | MAVERICK 1000 STD | AXC8117 | AXC8217 | AXC8307 | AXC8307 |
| 2015-2014 | MAVERICK 1000 STD | AXC8117 | AXC8217 | AXC8307 | AXC8307 |
| 2017-2015 | MAVERICK 1000 XDS  | AXC8117 | AXC8217 | AXC8322 | AXC8322 |
| 2018-2017 | MAVERICK 1000 XMR | AXC8119 | AXC8219 | AXC8307 | AXC8307 |
| 2016-2015 | MAVERICK 1000 XMR | AXC8119 | AXC8219 | ATV-CA-886 | ATV-CA-886 |
| 2014 | MAVERICK 1000 XMR | AXC8119 | AXC8219 | AXC8307 | AXC8307 |
| 2015-2014 | MAVERICK 1000 XRS  | AXC8117 | AXC8217 | AXC8307 | AXC8307 |
| 2015-2014 | MAVERICK 1000 XXC | AXC8118 | AXC8218 | AXC8308 | AXC8308 |
| 2016-2013 | MAVERICK 1000R | AXC8117 | AXC8217 | AXC8307 | AXC8307 |
| 2018-2016 | MAVERICK 1000R DPS | AXC8117 | AXC8217 | AXC8307 | AXC8307 |
| 2017 | MAVERICK 1000R TURBO | AXC8117 | AXC8217 | | |
| 2018-2016 | MAVERICK 1000R XC | AXC8118 | AXC8218 | ATV-CA-885 | ATV-CA-885 |
| 2018-2017 | MAVERICK 1000R XC DPS | AXC8118 | AXC8218 | ATV-CA-885 | ATV-CA-885 |
| 2016-2015 | MAVERICK 1000R XDS | AXC8117 | AXC8217 | AXC8322 | AXC8322 |
| 2016-2015 | MAVERICK 1000R XDS TURBO  | AXC8117 | AXC8217 | AXC8322 | AXC8322 |
| 2018-2014 | MAVERICK 1000R XMR | AXC8119 | AXC8219 | AXC8307 | AXC8307 |
| 2016-2015 | MAVERICK 1000R XMR DPS | AXC8119 | AXC8219 | AXC8307 | AXC8307 |
| 2014-2013 | MAVERICK 1000R XRS | AXC8117 | AXC8217 | AXC8307 | AXC8307 |
| 2015-2014 | MAVERICK 1000R XRS DPS | AXC8117 | AXC8217 | AXC8307 | AXC8307 |
| 2016 | MAVERICK 1000R XRS TURBO  | AXC8117 | AXC8217 | AXC8322 | AXC8322 |
| 2018-2017 | MAVERICK 1000R XXC | AXC8118 | AXC8218 | ATV-CA-885 | ATV-CA-885 |
| 2016 | MAVERICK 1000R XXC DPS | AXC8118 | AXC8218 | ATV-CA-885 | ATV-CA-885 |
| 2015-2014 | MAVERICK 1000R XXC DPS | AXC8118 | AXC8218 | AXC8308 | AXC8308 |
| 2015-2014 | MAVERICK MAX 1000R  | AXC8117 | AXC8217 | AXC8307 | AXC8307 |
| 2018-2016 | MAVERICK MAX 1000R DPS | AXC8117 | AXC8217 | AXC8307 | AXC8307 |
| 2017 | MAVERICK MAX 1000R TURBO | AXC8117 | AXC8217 | | |
| 2016-2015 | MAVERICK MAX 1000R XDS | AXC8117 | AXC8217 | AXC8322 | AXC8322 |
| 2017-2015 | MAVERICK MAX 1000R XDS TURBO  | AXC8117 | AXC8217 | AXC8322 | AXC8322 |
| 2018-2017 | MAVERICK MAX 1000R XMR | AXC8119 | AXC8219 | AXC8307 | AXC8307 |
| 2015-2014 | MAVERICK MAX 1000R XRS DPS | AXC8117 | AXC8217 | AXC8307 | AXC8307 |
| 2017-2016 | MAVERICK MAX 1000R XRS TURBO   | AXC8117 | AXC8217 | AXC8322 | AXC8322 |
| 2019 | MAVERICK MAX TURBO 64" width | AXC8227 | AXC8227 | AXC8329  | AXC8329 |
| 2019 | MAVERICK MAX TURBO 72" width | AXC8127 | AXC8127 | ATV-CA-859 | ATV-CA-859 |
| 2019 | MAVERICK MAX TURBO R STD | AXC8124  | AXC8224 | AXC8329  | AXC8329 |
| 2019 | MAVERICK MAX TURBO R 64" Wide (exc. STD) | AXC8227 | AXC8227 | AXC8329  | AXC8329 |
| 2019 | MAVERICK MAX TURBO R 72" Wide (exc. STD) | AXC8127 | AXC8127 | ATV-CA-859 | ATV-CA-859 |
| 2021-2019 | MAVERICK SPORT 1000 | AXC8233 | AXC8234 | AXC8334 | AXC8334 |
| 2020-2019 | MAVERICK SPORT 1000 DPS | AXC8233 | AXC8234 | AXC8334 | AXC8334 |
| 2021-2019 | MAVERICK SPORT 1000R DPS | AXC8233 | AXC8234 | AXC8334 | AXC8334 |
| 2021-2020 | MAVERICK SPORT 1000R XMR | 705402282 | 705402282 | 705502757 | 705502757 |
| 2021-2020 | MAVERICK SPORT 1000R XRC  | 705402282 | 705402282 | 705502757 | 705502757 |
| 2021-2020 | MAVERICK SPORT 1000R XXC  | 705402282 | 705402282 | 705502757 | 705502757 |
| 2021-2020 | MAVERICK SPORT MAX 1000R DPS | AXC8233 | AXC8234 | AXC8334 | AXC8334 |
| 2021-2019 | MAVERICK TRAIL 1000 DPS (with ABS Brakes) | 705402442 | 705402442 | 705502755 | 705502755 |
| 2020-2019 | MAVERICK TRAIL 1000 DPS (w/o ABS Brakes) | AXC8130 | AXC8230 | AXC8332 | AXC8332 |
| 2018 | MAVERICK TRAIL 1000R | AXC8130 | AXC8230 | AXC8332 | AXC8332 |
| 2018 | MAVERICK TRAIL 1000R DPS | AXC8130 | AXC8230 | AXC8332 | AXC8332 |
| 2018 | MAVERICK X3 900 HO | AXC8126 | AXC8226 | AXC8329 | AXC8329 |
| CAN-AM | | | | | |
| YEAR(S) | MODEL | FRONT LEFT | FRONT RIGHT | REAR LEFT | REAR RIGHT |
| 2021 | MAVERICK X3 DS TURBO | AXC8124  | AXC8224 | AXC8329 | AXC8329 |
| 2021 | MAVERICK X3 DS TURBO R | AXC8124  | AXC8224 | AXC8329 | AXC8329 |
| 2020 | MAVERICK X3 DS TURBO R | AXC8126 | AXC8226 | AXC8329 | AXC8329 |
| 2021 | MAVERICK X3 MAX DS TURBO | AXC8124  | AXC8224 | AXC8329 | AXC8329 |
| 2021 | MAVERICK X3 MAX DS TURBO R | AXC8124  | AXC8224 | AXC8329 | AXC8329 |
| 2020 | MAVERICK X3 MAX DS TURBO R | AXC8227 | AXC8227 | AXC8329 | AXC8329 |
| 2021 | MAVERICK X3 MAX RS TURBO R | AXC8124  | AXC8224 | ATV-CA-859 | ATV-CA-859 |
| 2020 | MAVERICK X3 MAX RS TURBO R | AXC8126 | AXC8226 | AXC8329 | AXC8329 |
| 2020 | MAVERICK X3 MAX TURBO | AXC8124  | AXC8224 | AXC8329 | AXC8329 |
| 2019 | MAVERICK X3 MAX TURBO | AXC8227 | AXC8227 | AXC8329 | AXC8329 |
| 2018 | MAVERICK X3 MAX TURBO | AXC8126 | AXC8226 | AXC8329 | AXC8329 |
| 2019-2018 | MAVERICK X3 MAX TURBO R | AXC8126 | AXC8226 | AXC8329 | AXC8329 |
| 2017 | MAVERICK X3 MAX TURBO R | AXC8117 | AXC8217 | AXC8322 | AXC8322 |
| 2019-2018 | MAVERICK X3 MAX XDS TURBO R | AXC8126 | AXC8226 | AXC8329 | AXC8329 |
| 2017 | MAVERICK X3 MAX XDS TURBO R | AXC8117 | AXC8217 | AXC8322 | AXC8322 |
| 2021 | MAVERICK X3 MAX XDS TURBO RR | AXC8227 | AXC8227 | AXC8329 | AXC8329 |
| 2020 | MAVERICK X3 MAX XDS TURBO RR | AXC8124  | AXC8224 | AXC8329 | AXC8329 |
| 2021-2020 | MAVERICK X3 MAX XMR TURBO RR | AXC8127  | AXC8127 | ATV-CA-859 | ATV-CA-859 |
| 2019 | MAVERICK X3 MAX XRS TURBO R | AXC8127  | AXC8127 | ATV-CA-859 | ATV-CA-859 |
| 2018 | MAVERICK X3 MAX XRS TURBO R | AXC8123 | AXC8223 | ATV-CA-859 | ATV-CA-859 |
| 2017 | MAVERICK X3 MAX XRS TURBO R | AXC8117 | AXC8217 | AXC8322 | AXC8322 |
| 2021 | MAVERICK X3 MAX XRS TURBO RR | AXC8127  | AXC8127 | ATV-CA-859 | ATV-CA-859 |
| 2020 | MAVERICK X3 MAX XRS TURBO RR | AXC8124  | AXC8224 | ATV-CA-859 | ATV-CA-859 |
| 2021 | MAVERICK X3 MAX XRS TURBO RR SMART | AXC8124  | AXC8224 | ATV-CA-859 | ATV-CA-859 |
| 2021 | MAVERICK X3 RS TURBO R | AXC8123 | AXC8223 | ATV-CA-859 | ATV-CA-859 |
| 2020 | MAVERICK X3 RS TURBO R | AXC8126 | AXC8226 | AXC8329 | AXC8329 |
| 2020 | MAVERICK X3 TURBO | AXC8126 | AXC8226 | AXC8329 | AXC8329 |
| 2019-2018 | MAVERICK X3 TURBO | AXC8126 | AXC8226 | AXC8329 | AXC8329 |
| 2019-2018 | MAVERICK X3 TURBO R | AXC8126 | AXC8226 | AXC8329 | AXC8329 |
| 2017 | MAVERICK X3 TURBO R | AXC8124  | AXC8224 | AXC8329 | AXC8329 |
| 2019 | MAVERICK X3 XDS TURBO R | AXC8126 | AXC8226 | AXC8329 | AXC8329 |
| 2018 | MAVERICK X3 XDS TURBO R | AXC8126 | AXC8226 | AXC8329 | AXC8329 |
| 2017 | MAVERICK X3 XDS TURBO R | AXC8124  | AXC8224 | AXC8329 | AXC8329 |
| 2021 | MAVERICK X3 XDS TURBO RR | AXC8227 | AXC8227 | AXC8329 | AXC8329 |
| 2020 | MAVERICK X3 XDS TURBO RR | AXC8124  | AXC8224 | AXC8329 | AXC8329 |
| 2021-2018 | MAVERICK X3 XMR TURBO | AXC8227 | AXC8227 | AXC8329 | AXC8329 |
| 2019 | MAVERICK X3 XMR TURBO R | AXC8127  | AXC8127 | AXC8329 | AXC8329 |
| 2018 | MAVERICK X3 XMR TURBO R | AXC8127  | AXC8127 | ATV-CA-859 | ATV-CA-859 |
| 2021-2020 | MAVERICK X3 XMR TURBO RR | AXC8127  | AXC8127 | ATV-CA-859 | ATV-CA-859 |
| 2021-2018 | MAVERICK X3 XRC TURBO | AXC8227 | AXC8227 | AXC8329 | AXC8329 |
| 2019 | MAVERICK X3 XRC TURBO R | AXC8127  | AXC8127 | AXC8329 | AXC8329 |
| 2018 | MAVERICK X3 XRC TURBO R | AXC8127  | AXC8127 | ATV-CA-859 | ATV-CA-859 |
| 2021-2020 | MAVERICK X3 XRC TURBO RR | AXC8127  | AXC8127 | ATV-CA-859 | ATV-CA-859 |
| 2019 | MAVERICK X3 XRS TURBO R | AXC8127  | AXC8127 | AXC8329 | AXC8329 |
| 2018-2017 | MAVERICK X3 XRS TURBO R | AXC8123 | AXC8223 | ATV-CA-859 | ATV-CA-859 |
| 2021 | MAVERICK X3 XRS TURBO RR | AXC8127  | AXC8127 | ATV-CA-859 | ATV-CA-859 |
| 2020 | MAVERICK X3 XRS TURBO RR | AXC8124  | AXC8224 | ATV-CA-859 | ATV-CA-859 |
| 2021 | MAVERICK X3 XRS TURBO RR SMART | AXC8127  | AXC8127 | ATV-CA-859 | ATV-CA-859 |
| Outlander | | | | | |
| 2014-2011 | OUTLANDER 400  | AXC8111 | AXC8211 | AXC8304/8326 | AXC8305/8327 |
| 2010-2009 | OUTLANDER 400 HO  | AXC8111 | AXC8211 | AXC8304/8326 | AXC8305/8327 |
| 2008-2007 | OUTLANDER 400 HO | AXC8111 | AXC8211 | 705500738 | 705500739 |
| 2010-2009 | OUTLANDER 400 HO XT | AXC8111 | AXC8211 | AXC8304/8326 | AXC8305/8327 |
| 2008-2007 | OUTLANDER 400 HO XT | AXC8111 | AXC8211 | 705500738 | 705500739 |
| 2014-2011 | OUTLANDER 400 XT | AXC8111 | AXC8211 | AXC8304/8326 | AXC8305/8327 |
| 2021-2017 | OUTLANDER 450 | AXC8122 | AXC8222 | AXC8323 | AXC8324 |
| 2021-2017 | OUTLANDER 450 DPS | AXC8122 | AXC8222 | AXC8323 | AXC8324 |
| 2021-2018 | OUTLANDER 450 HUNTING | AXC8122 | AXC8222 | AXC8323 | AXC8324 |
| 2014-2013 | OUTLANDER 500  | AXC8115 | AXC8215 | AXC8304/8326 | AXC8305/8327 |
| 2012-2011 | OUTLANDER 500  | AXC8111 | AXC8211 | AXC8304/8326 | AXC8305/8327 |
| 2015 | OUTLANDER 500 DPS | AXC8122 | AXC8222 | AXC8304/8326 | AXC8305/8327 |
| 2014-2013 | OUTLANDER 500 DPS | AXC8115 | AXC8215 | AXC8304/8326 | AXC8305/8327 |
| 2010-2007 | OUTLANDER 500 HO | AXC8111 | AXC8211 | AXC8304/8326 | AXC8305/8327 |
| 2010-2007 | OUTLANDER 500 HO XT | AXC8111 | AXC8211 | AXC8304/8326 | AXC8305/8327 |
| 2010 | OUTLANDER 500 HO XT-P | AXC8111 | AXC8211 | AXC8304/8326 | AXC8305/8327 |
| 2015 | OUTLANDER 500 XT | AXC8122 | AXC8222 | AXC8304/8326 | AXC8305/8327 |
| 2014-2013 | OUTLANDER 500 XT | AXC8115 | AXC8215 | AXC8304/8326 | AXC8305/8327 |
| 2012-2011 | OUTLANDER 500 XT | AXC8111 | AXC8211 | AXC8304/8326 | AXC8305/8327 |
| 2021-2017 | OUTLANDER 570 | AXC8122 | AXC8222 | AXC8323 | AXC8324 |
| 2021-2017 | OUTLANDER 570 DPS | AXC8122 | AXC8222 | AXC8323 | AXC8324 |
| 2016 | OUTLANDER 570 DPS | AXC8122 | AXC8222 | AXC8304/8326 | AXC8305/8327 |
| 2021-2017 | OUTLANDER 570 HUNTING | AXC8122 | AXC8222 | AXC8323 | AXC8324 |
| 2021 | OUTLANDER 570 XMR | | | AXC8304/8326 | AXC8305/8327 |
| CAN-AM | | | | | |
| YEAR(S) | MODEL | FRONT LEFT | FRONT RIGHT | REAR LEFT | REAR RIGHT |
| 2020-2018 | OUTLANDER 570 XMR | AXC8115 | AXC8215 | AXC8304/8326 | AXC8305/8327 |
| 2017 | OUTLANDER 570 XMR | AXC8115 | AXC8215 | AXC8304/8326 | AXC8305/8327 |
| 2021-2019 | OUTLANDER 570 XT | AXC8122 | AXC8222 | AXC8323 | AXC8324 |
| 2018 | OUTLANDER 570 XT | AXC8122 | AXC8222 | AXC8304/8326 | AXC8305/8327 |
| 2017 | OUTLANDER 570 XT | AXC8122 | AXC8222 | AXC8323 | AXC8324 |
| 2016 | OUTLANDER 570 XT | AXC8122 | AXC8222 | AXC8304/8326 | AXC8305/8327 |
| 2021 | OUTLANDER 650 | AXC8232 | AXC8231 | AXC8311 | AXC8312 |
| 2020 | OUTLANDER 650 (with ABS Brakes) | AXC8232 | AXC8231 | AXC8311 | 705502714 |
| 2020 | OUTLANDER 650 (w/o ABS Brakes) | AXC8232 | AXC8231 | AXC8311 | AXC8312 |
| 2019 | OUTLANDER 650 | AXC8232 | AXC8231 | AXC8304/8326 | AXC8305/8327 |
| 2018-2017 | OUTLANDER 650 | AXC8115 | AXC8215 | AXC8304/8326 | AXC8305/8327 |
| 2016-2013 | OUTLANDER 650  | AXC8115 | AXC8215 | AXC8304/8326 | AXC8305/8327 |
| 2012-2011 | OUTLANDER 650  | AXC8111 | AXC8211 | AXC8304/8326 | AXC8305/8327 |
| 2021 | OUTLANDER 650 DPS | AXC8232 | AXC8231 | AXC8311 | AXC8312 |
| 2020 | OUTLANDER 650 DPS (with ABS Brakes) | AXC8232 | AXC8231 | AXC8311 | 705502714 |
| 2020 | OUTLANDER 650 DPS (w/o ABS Brakes) | AXC8232 | AXC8231 | AXC8311 | AXC8312 |
| 2019 | OUTLANDER 650 DPS | AXC8232 | AXC8231 | AXC8304/8326 | AXC8305/8327 |
| 2018-2017 | OUTLANDER 650 DPS | AXC8115 | AXC8215 | AXC8304/8326 | AXC8305/8327 |
| 2016-2013 | OUTLANDER 650 DPS | AXC8115 | AXC8215 | AXC8304/8326 | AXC8305/8327 |
| 2010-2007 | OUTLANDER 650 HO | AXC8111 | AXC8211 | AXC8304/8326 | AXC8305/8327 |
| 2010-2007 | OUTLANDER 650 HO XT | AXC8111 | AXC8211 | AXC8304/8326 | AXC8305/8327 |
| 2021 | OUTLANDER 650 HUNTING  | AXC8232 | AXC8231 | AXC8311 | AXC8312 |
| 2020 | OUTLANDER 650 HUNTING (with ABS Brakes) | AXC8232 | AXC8231 | AXC8311 | 705502714 |
| 2020 | OUTLANDER 650 HUNTING (w/o ABS Brake) | AXC8232 | AXC8231 | AXC8311 | AXC8312 |
| 2019 | OUTLANDER 650 NORTH EDITION | AXC8232 | AXC8231 | AXC8311 | AXC8312 |
| 2018 | OUTLANDER 650 NORTH EDITION | AXC8115 | AXC8215 | AXC8304/8326 | AXC8305/8327 |
| 2021-2019 | OUTLANDER 650 XMR | 705402237 | AXC8231 | 705503025 | 705503024 |
| 2018-2013 | OUTLANDER 650 XMR | AXC8116 | AXC8216 | AXC8304/8326 | AXC8305/8327 |
| 2021-2019 | OUTLANDER 650 XT | AXC8232 | AXC8231 | AXC8311 | AXC8312 |
| 2018-2017 | OUTLANDER 650 XT | AXC8115 | AXC8215 | AXC8304/8326 | AXC8305/8327 |
| 2020 | OUTLANDER 650 XT (with ABS Brakes) | AXC8232 | AXC8231 | AXC8311 | 705502714 |
| 2020 | OUTLANDER 650 XT (w/o ABS Brakes) | AXC8232 | ATV | AXC8311 | AXC8312 |
| 2016-2013 | OUTLANDER 650 XT | AXC8115 | AXC8215 | AXC8304/8326 | AXC8305/8327 |
| 2012-2011 | OUTLANDER 650 XT | AXC8111 | AXC8211 | AXC8304/8326 | AXC8305/8327 |
| 2011-2010 | OUTLANDER 650 XT-P | AXC8111 | AXC8211 | AXC8304/8326 | AXC8305/8327 |
| 2018-2017 | OUTLANDER 650 6x6 DPS | AXC8115 | AXC8215 | AXC8305/8327 | AXC8304/8326 |
| 2016-2015 | OUTLANDER 650 6x6 XT | AXC8115 | AXC8215 | AXC8304/8326 | AXC8305/8327 |
| 2010-2007 | OUTLANDER 800 HO | AXC8111 | AXC8211 | AXC8304/8326 | AXC8305/8327 |
| 2010-2007 | OUTLANDER 800 HO XT | AXC8111 | AXC8211 | AXC8304/8326 | AXC8305/8327 |
| 2015-2013 | OUTLANDER 800R  | AXC8115 | AXC8215 | AXC8304/8326 | AXC8305/8327 |
| 2012 | OUTLANDER 800R  | AXC8112 | AXC8212 | AXC8304/8326 | AXC8305/8327 |
| 2011 | OUTLANDER 800R  | AXC8111 | AXC8211 | AXC8304/8326 | AXC8305/8327 |
| 2015-2013 | OUTLANDER 800R DPS | AXC8115 | AXC8215 | AXC8304/8326 | AXC8305/8327 |
| 2015 | OUTLANDER 800R XMR | AXC8116 | AXC8216 | AXC8304/8326 | AXC8305/8327 |
| 2013 | OUTLANDER 800R XMR | AXC8115 | AXC8215 | AXC8304/8326 | AXC8305/8327 |
| 2012 | OUTLANDER 800R XMR | 705400892 | 705400891 | AXC8304/8326 | AXC8305/8327 |
| 2011 | OUTLANDER 800R XXC | 705401111 | 705401112 | AXC8304/8326 | AXC8305/8327 |
| 2015-2013 | OUTLANDER 800R XT | AXC8115 | AXC8215 | AXC8304/8326 | AXC8305/8327 |
| 2012 | OUTLANDER 800R XT | AXC8112 | AXC8212 | AXC8304/8326 | AXC8305/8327 |
| 2011 | OUTLANDER 800R XT | AXC8111 | AXC8211 | AXC8304/8326 | AXC8305/8327 |
| 2015-2011 | OUTLANDER 800R XT-P | AXC8115 | AXC8215 | AXC8304/8326 | AXC8305/8327 |
| 2010 | OUTLANDER 800R XT-P | AXC8111 | AXC8211 | AXC8304/8326 | AXC8305/8327 |
| 2021-2019 | OUTLANDER 850 | AXC8232 | AXC8231 | AXC8311 | AXC8312 |
| 2021-2019 | OUTLANDER 850 DPS | AXC8232 | AXC8231 | AXC8311 | AXC8312 |
| 2018-2016 | OUTLANDER 850 DPS | AXC8115 | AXC8215 | AXC8304/8326 | AXC8305/8327 |
| 2021-2019 | OUTLANDER 850 NORTH EDITION | AXC8232 | AXC8231 | AXC8311 | AXC8312 |
| 2018 | OUTLANDER 850 NORTH EDITION | AXC8115 | AXC8215 | AXC8304/8326 | AXC8305/8327 |
| 2021-2019 | OUTLANDER 850 XMR | 705402237 | AXC8231 | 705503025 | 705503024 |
| 2018-2016 | OUTLANDER 850 XMR | AXC8116 | AXC8216 | AXC8304/8326 | AXC8305/8327 |
| 2021-2019 | OUTLANDER 850 XT | AXC8232 | AXC8231 | AXC8311 | AXC8312 |
| 2018-2016 | OUTLANDER 850 XT | AXC8115 | AXC8215 | AXC8304/8326 | AXC8305/8327 |
| 2021-2019 | OUTLANDER 850 XT-P | AXC8232 | AXC8231 | AXC8311 | AXC8312 |
| 2018-2016 | OUTLANDER 850 XT-P | AXC8115 | AXC8215 | AXC8304/8326 | AXC8305/8327 |
| 2012 | OUTLANDER 1000  | AXC8112 | AXC8212 | AXC8304/8326 | AXC8305/8327 |
| 2019 | OUTLANDER 1000 DPS | 705402241 | 705402242 | AXC8311 | 705502714 |
| 2018-2013 | OUTLANDER 1000 DPS | AXC8115 | AXC8215 | AXC8304/8326 | AXC8305/8327 |
| 2019 | OUTLANDER 1000 HUNTING | 705402241 | 705402242 | AXC8311 | 705502714 |
| 2018-2017 | OUTLANDER 1000 HUNTING | AXC8115 | AXC8215 | AXC8304/8326 | AXC8305/8327 |
| 2021-2019 | OUTLANDER 1000 XMR | 705402237 | AXC8231 | 705503025 | 705503024 |
| 2018-2013 | OUTLANDER 1000 XMR | AXC8116 | AXC8216 | AXC8304/8326 | AXC8305/8327 |
| 2021-2019 | OUTLANDER 1000 XT | AXC8232 | AXC8231 | AXC8311 | AXC8312 |
| 2018-2017 | OUTLANDER 1000 XT | AXC8115 | AXC8215 | AXC8304/8326 | AXC8305/8327 |
| CAN-AM | | | | | |
| YEAR(S) | MODEL | FRONT LEFT | FRONT RIGHT | REAR LEFT | REAR RIGHT |
| 2016-2103 | OUTLANDER 1000 XT | AXC8115 | AXC8215 | AXC8304/8326 | AXC8305/8327 |
| 2012 | OUTLANDER 1000 XT | AXC8112 | AXC8212 | AXC8304/8326 | AXC8305/8327 |
| 2021-2019 | OUTLANDER 1000 XT-P | AXC8232 | AXC8231 | AXC8311 | AXC8312 |
| 2018-2107 | OUTLANDER 1000 XT-P | AXC8115 | AXC8215 | AXC8304/8326 | AXC8305/8327 |
| 2016-2014 | OUTLANDER 1000 XT-P | AXC8115 | AXC8215 | AXC8304/8326 | AXC8305/8327 |
| 2013 | OUTLANDER 1000 XT-P | AXC8304/8326 | AXC8305/8327 | AXC8304/8326 | AXC8305/8327 |
| 2021-2019 | OUTLANDER 1000 XXC | AXC8232 | AXC8231 | AXC8311 | AXC8312 |
| 2018 | OUTLANDER 1000 XXC | AXC8115 | AXC8215 | AXC8304/8326 | AXC8305/8327 |
| 2018-2015 | OUTLANDER 1000 6X6 XT | AXC8115 | AXC8215 | AXC8305/8327 | AXC8304/8326 |
| 2021 | OUTLANDER 1000R | AXC8232 | AXC8231 | AXC8311 | AXC8312 |
| 2021 | OUTLANDER 1000R DPS | AXC8232 | AXC8231 | AXC8311 | AXC8312 |
| 2021 | OUTLANDER 1000R XMR | 705402237 | AXC8231 | 705503025 | 705503024 |
| 2021 | OUTLANDER 1000R XT | AXC8232 | AXC8231 | AXC8311 | AXC8312 |
| 2021 | OUTLANDER 1000R XT-P | AXC8232 | AXC8231 | AXC8311 | AXC8312 |
| 2021 | OUTLANDER 1000R XXC | AXC8232 | AXC8231 | AXC8311 | AXC8312 |
| 2014-2011 | OUTLANDER MAX 400  | AXC8111 | AXC8211 | AXC8304/8326 | AXC8305/8327 |
| 2010-2009 | OUTLANDER MAX 400 HO  | AXC8111 | AXC8211 | AXC8304/8326 | AXC8305/8327 |
| 2008-2007 | OUTLANDER MAX 400 HO | AXC8111 | AXC8211 | 705500738 | 705500739 |
| 2010-2009 | OUTLANDER MAX 400 HO  XT | AXC8111 | AXC8211 | AXC8304/8326 | AXC8305/8327 |
| 2008-2007 | OUTLANDER MAX 400 HO  XT | AXC8111 | AXC8211 | 705500738 | 705500739 |
| 2014-2011 | OUTLANDER MAX 400 XT | AXC8111 | AXC8211 | AXC8304/8326 | AXC8305/8327 |
| 2021-2017 | OUTLANDER MAX 450 | AXC8122 | AXC8222 | AXC8323 | AXC8324 |
| 2021-2017 | OUTLANDER MAX 450 DPS | AXC8122 | AXC8222 | AXC8323 | AXC8324 |
| 2021-2020 | OUTLANDER MAX 450 6X6 DPS | AXC8122 | AXC8222 | AXC8323 | AXC8324 |
| 2014-2013 | OUTLANDER MAX 500  | AXC8115 | AXC8215 | AXC8304/8326 | AXC8305/8327 |
| 2012-2011 | OUTLANDER MAX 500  | AXC8111 | AXC8211 | AXC8304/8326 | AXC8305/8327 |
| 2015 | OUTLANDER MAX 500 DPS | AXC8122 | AXC8222 | AXC8304/8326 | AXC8305/8327 |
| 2014-2013 | OUTLANDER MAX 500 DPS | AXC8115 | AXC8215 | AXC8304/8326 | AXC8305/8327 |
| 2010-2007 | OUTLANDER MAX 500 HO  | AXC8111 | AXC8211 | AXC8304/8326 | AXC8305/8327 |
| 2015 | OUTLANDER MAX 500 XT | AXC8122 | AXC8222 | AXC8304/8326 | AXC8305/8327 |
| 2014-2103 | OUTLANDER MAX 500 XT | AXC8115 | AXC8215 | AXC8304/8326 | AXC8305/8327 |
| 2012-2011 | OUTLANDER MAX 500 XT | AXC8111 | AXC8211 | AXC8304/8326 | AXC8305/8327 |
| 2010 | OUTLANDER MAX 500 HO LTD | AXC8111 | AXC8211 | AXC8304/8326 | AXC8305/8327 |
| 2010-2007 | OUTLANDER MAX 500 HO XT | AXC8111 | AXC8211 | AXC8304/8326 | AXC8305/8327 |
| 2010 | OUTLANDER MAX 500 HO XT-P | AXC8111 | AXC8211 | AXC8304/8326 | AXC8305/8327 |
| 2021-2017 | OUTLANDER MAX 570 | AXC8122 | AXC8222 | AXC8323 | AXC8324 |
| 2021-2017 | OUTLANDER MAX 570 DPS | AXC8122 | AXC8222 | AXC8323 | AXC8324 |
| 2016 | OUTLANDER MAX 570 DPS | AXC8122 | AXC8222 | AXC8304/8326 | AXC8305/8327 |
| 2021-2017 | OUTLANDER MAX 570 XT | AXC8122 | AXC8222 | AXC8323 | AXC8324 |
| 2016 | OUTLANDER MAX 570 XT | AXC8122 | AXC8222 | AXC8304/8326 | AXC8305/8327 |
| 2021-2019 | OUTLANDER MAX 650 DPS | AXC8232 | AXC8231 | AXC8311 | AXC8312 |
| 2018-2017 | OUTLANDER MAX 650 DPS | AXC8115 | AXC8215 | AXC8304/8326 | AXC8305/8327 |
| 2015-2013 | OUTLANDER MAX 650  | AXC8115 | AXC8215 | AXC8304/8326 | AXC8305/8327 |
| 2012-2011 | OUTLANDER MAX 650  | AXC8111 | AXC8211 | AXC8304/8326 | AXC8305/8327 |
| 2016-2013 | OUTLANDER MAX 650  DPS | AXC8115 | AXC8215 | AXC8304/8326 | AXC8305/8327 |
| 2016-2013 | OUTLANDER MAX 650 XT | AXC8115 | AXC8215 | AXC8304/8326 | AXC8305/8327 |
| 2012-2011 | OUTLANDER MAX 650 XT | AXC8111 | AXC8211 | AXC8304/8326 | AXC8305/8327 |
| 2012-2010 | OUTLANDER MAX 650 XT-P | AXC8111 | AXC8211 | AXC8304/8326 | AXC8305/8327 |
| 2010-2007 | OUTLANDER MAX 650 HO  | AXC8111 | AXC8211 | AXC8304/8326 | AXC8305/8327 |
| 2010-2007 | OUTLANDER MAX 650 HO XT | AXC8111 | AXC8211 | AXC8304/8326 | AXC8305/8327 |
| 2019-2018 | OUTLANDER MAX 650 NORTH EDITION | AXC8232 | AXC8231 | AXC8311 | AXC8312 |
| 2021-2019 | OUTLANDER MAX 650 XT | AXC8232 | AXC8231 | AXC8311 | AXC8312 |
| 2018-2017 | OUTLANDER MAX 650 XT | AXC8115 | AXC8215 | AXC8304/8326 | AXC8305/8327 |
| 2020-2019 | OUTLANDER MAX 650 6X6 DPS | AXC8232 | AXC8231 | AXC8311 | AXC8312 |
| 2010-2007 | OUTLANDER MAX 800 HO  | AXC8111 | AXC8211 | AXC8304/8326 | AXC8305/8327 |
| 2010-2007 | OUTLANDER MAX 800 HO LTD | AXC8111 | AXC8211 | AXC8304/8326 | AXC8305/8327 |
| 2010-2007 | OUTLANDER MAX 800 HO  XT | AXC8111 | AXC8211 | AXC8304/8326 | AXC8305/8327 |
| 2012-2011 | OUTLANDER MAX 800R  | AXC8111 | AXC8211 | AXC8304/8326 | AXC8305/8327 |
| 2015-2013 | OUTLANDER MAX 800R DPS | AXC8115 | AXC8215 | AXC8304/8326 | AXC8305/8327 |
| 2012-2011 | OUTLANDER MAX 800R LTD | AXC8111 | AXC8211 | AXC8304/8326 | AXC8305/8327 |
| 2015-2013 | OUTLANDER MAX 800R XT | AXC8115 | AXC8215 | AXC8304/8326 | AXC8305/8327 |
| 2012-2011 | OUTLANDER MAX 800R XT | AXC8111 | AXC8211 | AXC8304/8326 | AXC8305/8327 |
| 2015-2013 | OUTLANDER MAX 800R XT-P | AXC8115 | AXC8215 | AXC8304/8326 | AXC8305/8327 |
| 2012-2011 | OUTLANDER MAX 800R XT-P | AXC8111 | AXC8211 | AXC8304/8326 | AXC8305/8327 |
| 2010 | OUTLANDER MAX 800R XT-P | AXC8111 | AXC8211 | AXC8304/8326L1 | AXC8302 |
| 2021-2019 | OUTLANDER MAX 850 NORTH EDITION | AXC8232 | AXC8231 | AXC8311 | AXC8312 |
| 2018 | OUTLANDER MAX 850 NORTH EDITION | AXC8115 | AXC8215 | AXC8304/8326 | AXC8305/8327 |
| 2021-2019 | OUTLANDER MAX 850 XT | AXC8232 | AXC8231 | AXC8311 | AXC8312 |
| 2018-2016 | OUTLANDER MAX 850 XT | AXC8115 | AXC8215 | AXC8304/8326 | AXC8305/8327 |
| 2021-2019 | OUTLANDER MAX 850 XT-P | AXC8232 | AXC8231 | AXC8311 | AXC8312 |
| 2018-2016 | OUTLANDER MAX 850 XT-P | AXC8115 | AXC8215 | AXC8304/8326 | AXC8305/8327 |
| 2015-2013 | OUTLANDER MAX 1000 DPS | AXC8115 | AXC8215 | AXC8304/8326 | AXC8305/8327 |
| 2021-2019 | OUTLANDER MAX 1000 LTD | AXC8232 | AXC8231 | AXC8311 | AXC8312 |
| CAN-AM | | | | | |
| YEAR(S) | MODEL | FRONT LEFT | FRONT RIGHT | REAR LEFT | REAR RIGHT |
| 2018-2013 | OUTLANDER MAX 1000 LTD | AXC8115 | AXC8215 | AXC8304/8326 | AXC8305/8327 |
| 2016-2013 | OUTLANDER MAX 1000 XT | AXC8115 | AXC8215 | AXC8304/8326 | AXC8305/8327 |
| 2016-2013 | OUTLANDER MAX 1000 XT-P | AXC8115 | AXC8215 | AXC8304/8326 | AXC8305/8327 |
| 2021-2019 | OUTLANDER MAX 1000 XT | AXC8232 | AXC8231 | AXC8311 | AXC8312 |
| 2018-2017 | OUTLANDER MAX 1000 XT | AXC8115 | AXC8215 | AXC8304/8326 | AXC8305/8327 |
| 2021-2019 | OUTLANDER MAX 1000 XT-P | AXC8232 | AXC8231 | AXC8311 | AXC8312 |
| 2018-2017 | OUTLANDER MAX 1000 XT-P | AXC8115 | AXC8215 | AXC8304/8326 | AXC8305/8327 |
| 2021-2019 | OUTLANDER MAX 1000 6X6 XT | AXC8232 | AXC8231 | AXC8311 | AXC8312 |
| 2021 | OUTLANDER MAX 1000R DPS | AXC8232 | AXC8231 | AXC8311 | AXC8312 |
| 2016-2015 | OUTLANDER L 450 | AXC8122 | AXC8222 | AXC8323 | AXC8324 |
| 2016-2015 | OUTLANDER L 450 DPS | AXC8122 | AXC8222 | AXC8323 | AXC8324 |
| 2015 | OUTLANDER L 500 | AXC8122 | AXC8222 | AXC8323 | AXC8324 |
| 2015 | OUTLANDER L 500 DPS | AXC8122 | AXC8222 | AXC8323 | AXC8324 |
| 2016 | OUTLANDER L 570 | AXC8122 | AXC8222 | AXC8323 | AXC8324 |
| 2016 | OUTLANDER L 570 DPS | AXC8122 | AXC8222 | AXC8323 | AXC8324 |
| 2016 | OUTLANDER L 570 LE | AXC8122 | AXC8222 | AXC8323 | AXC8324 |
| 2016 | OUTLANDER L 570 HUNTING | AXC8122 | AXC8222 | AXC8323 | AXC8324 |
| 2016 | OUTLANDER L 570 XMR | AXC8115 | AXC8215 | AXC8304/8326 | AXC8305/8327 |
| 2016-2015 | OUTLANDER L MAX 450 | AXC8122 | AXC8222 | AXC8323 | AXC8324 |
| 2016-2015 | OUTLANDER L MAX 450 DPS | AXC8122 | AXC8222 | AXC8323 | AXC8324 |
| 2015 | OUTLANDER L MAX 500 | AXC8122 | AXC8222 | AXC8323 | AXC8324 |
| 2015 | OUTLANDER L MAX 500 DPS | AXC8122 | AXC8222 | AXC8323 | AXC8324 |
| 2016 | OUTLANDER L MAX 570 | AXC8122 | AXC8222 | AXC8323 | AXC8324 |
| 2016 | OUTLANDER L MAX 570 DPS | AXC8122 | AXC8222 | AXC8323 | AXC8324 |
| RENEGADE | | | | | |
| 2015 | RENEGADE 500 | AXC8122 | AXC8222 | AXC8304/8326 | AXC8305/8327 |
| 2014-2013 | RENEGADE 500 | AXC8115 | AXC8215 | AXC8304/8326 | AXC8305/8327 |
| 2012-2011 | RENEGADE 500 | 705401111 | 705401112 | AXC8304/8326 | AXC8305/8327 |
| 2010-2008 | RENEGADE 500 | AXC8111 | AXC8211 | AXC8304/8326 | AXC8305/8327 |
| 2021-2019 | RENEGADE 570 | AXC8232 | AXC8231 | AXC8311 | AXC8312 |
| 2018-2016 | RENEGADE 570 | AXC8122 | AXC8222 | AXC8304/8326 | AXC8305/8327 |
| 2021-2020 | RENEGADE 570 XMR | AXC8232 | AXC8231 | 705503025 | 705503024 |
| 2019 | RENEGADE 570 XMR | 705502237 | AXC8231 | AXC8311 | AXC8312 |
| 2018-2017 | RENEGADE 570 XMR | AXC8115 | AXC8215 | AXC8304/8326 | AXC8305/8327 |
| 2010-2007 | RENEGADE 800 | AXC8111 | AXC8211 | AXC8304/8326 | AXC8305/8327 |
| 2010-2008 | RENEGADE 800 X | AXC8111 | AXC8211 | AXC8304/8326 | AXC8305/8327 |
| 2011 | RENEGADE 800 XXC | 705401111 | 705401112 | AXC8304/8326 | AXC8305/8327 |
| 2010 | RENEGADE 800 XXC | AXC8111 | AXC8211 | AXC8304/8326 | AXC8305/8327 |
| 2015-2013 | RENEGADE 800R | AXC8115 | AXC8215 | AXC8304/8326 | AXC8305/8327 |
| 2012 | RENEGADE 800R | AXC8112 | AXC8212 | AXC8304/8326L1 | AXC8302 |
| 2011 | RENEGADE 800R | 705401111 | 705401112 | AXC8304/8326L1 | AXC8302 |
| 2010 | RENEGADE 800R | AXC8111 | AXC8211 | AXC8304/8326 | AXC8305/8327 |
| 2015-2013 | RENEGADE 800R XXC | AXC8115 | AXC8215 | AXC8304/8326 | AXC8305/8327 |
| 2012 | RENEGADE 800R XXC | AXC8112 | AXC8212 | AXC8304/8326L1 | AXC8302 |
| 2011 | RENEGADE 800R XXC | 705401111 | 705401112 | AXC8304/8326 | AXC8305/8327 |
| 2010 | RENEGADE 800R XXC | AXC8111 | AXC8211 | AXC8304/8326 | AXC8305/8327 |
| 2021-2019 | RENEGADE 850 | AXC8232 | AXC8231 | AXC8311 | AXC8312 |
| 2018-2016 | RENEGADE 850 | AXC8115 | AXC8215 | AXC8304/8326 | AXC8305/8327 |
| 2021-2019 | RENEGADE 850 XXC | AXC8232 | AXC8231 | AXC8311 | AXC8312 |
| 2018-2016 | RENEGADE 850 XXC | AXC8115 | AXC8215 | AXC8304/8326 | AXC8305/8327 |
| 2019 | RENEGADE 1000 | AXC8232 | AXC8231 | AXC8311 | AXC8312 |
| 2018-2013 | RENEGADE 1000 | AXC8115 | AXC8215 | AXC8304/8326 | AXC8305/8327 |
| 2012 | RENEGADE 1000 | AXC8112 | AXC8212 | AXC8304/8326 | AXC8305/8327 |
| 2021-2020 | RENEGADE 1000 XMR | 705502237 | AXC8231 | 705503025 | 705503024 |
| 2019 | RENEGADE 1000 XMR | AXC8115 | AXC8215 | AXC8311 | AXC8312 |
| 2018-2017 | RENEGADE 1000 XMR | AXC8115 | AXC8215 | AXC8304/8326 | AXC8305/8327 |
| 2016 | RENEGADE 1000 XMR | AXC8116 | AXC8216 | AXC8304/8326 | AXC8305/8327 |
| 2021 | RENEGADE 1000 XXC | AXC8232 | AXC8231 | AXC8311 | AXC8312 |
| 2020 | RENEGADE 1000 XXC (with ABS Brakes) | AXC8232 | AXC8231 | AXC8311 | 705502714 |
| 2020 | RENEGADE 1000 XXC (w/o ABS Brakes) | AXC8232 | AXC8231 | AXC8311 | AXC8312 |
| 2019 | RENEGADE 1000 XXC | AXC8232 | AXC8231 | AXC8311 | AXC8312 |
| 2018-2013 | RENEGADE 1000 XXC | AXC8115 | AXC8215 | AXC8304/8326 | AXC8305/8327 |
| 2012 | RENEGADE 1000 XXC | AXC8112 | AXC8212 | AXC8304/8326L1 | AXC8302 |
| TRAXTER | | | | | |
| 2020-2017 | TRAXTER HD5  | AXC8125 | AXC8225 | AXC8309 | AXC8310 |
| 2018 | TRAXTER HD5 CAB | AXC8125 | AXC8225 | | |
| 2020-2016 | TRAXTER HD8  | AXC8125 | AXC8225 | AXC8330 | AXC8330 |
| 2019-2018 | TRAXTER HD8 CAB | AXC8125 | AXC8225 | AXC8330       AXC8330 | AXC8330       AXC8330 |
| YEAR(S) | MODEL | FRONT LEFT | FRONT RIGHT | REAR LEFT | REAR RIGHT |
| TRAXTER | | | | | |
| 2020-2017 | TRAXTER HD10  | AXC8125 | AXC8225 | AXC8330 | AXC8330 |
| 2019-2018 | TRAXTER HD10 CAB  | AXC8125 | AXC8225 | AXC8330       AXC8330 | AXC8330       AXC8330 |
| 2019 | TRAXTER HD10 XMR  | 705402420 | 705402420 | | |
| 2018 | TRAXTER HD10 XMR  | 705402228 | 705402228 | AXC8330       AXC8330 | AXC8330       AXC8330 |
| 2020-2018 | TRAXTER MAX HD10 | AXC8125 | AXC8225 | AXC8330 | AXC8330 |
| 2018 | TRAXTER MAX HD10 CAB | AXC8125 | AXC8225 | AXC8330       AXC8330 | AXC8330       AXC8330 |
| 2020 | TRAXTER T HD5 BASE-DPS | AXC8125 | AXC8225 | AXC8309 | AXC8310 |
| 2020-2017 | TRAXTER T HD8  | AXC8125 | AXC8225 | AXC8330 | AXC8330 |
| 2018 | TRAXTER T HD8 CAB | AXC8125 | AXC8225 | AXC8330       AXC8330 | AXC8330       AXC8330 |
| 2020-2017 | TRAXTER T HD10  | AXC8125 | AXC8225 | AXC8330 | AXC8330 |
| 2018 | TRAXTER T HD10 CAB | AXC8125 | AXC8225 | AXC8330       AXC8330 | AXC8330       AXC8330 |