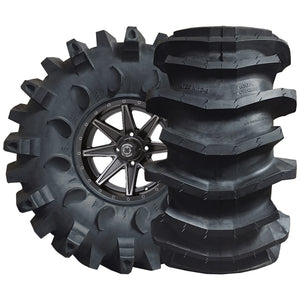 Interco Aqua Torque
• Designed primarily for use on amphibious vehicles but with features that also offer excellent performance when used on regular ATV Quads.
• Improve a vehicles skid steering ability.
• Tread design as tied into the sturdy sidewalls gives a quick steering response with little or no rolling under of the tire in severe turning.
• Traction in mud, snow and sand is exceptional and even with the aggressive design the tires give a smooth ride.
• Constructed to be highly resistant to damage from cuts and impact and all kinds of hazards.
• Largest paddles protrude beyond the sidewall along with sidewall blades which offer even more sidewall protection.
• Features an advanced heavy duty rim guard.
• Designed as directional but works well either way.
| | |
| --- | --- |
| Tire Size | Part # |
| 25x12-9 | AQ-01 |
| 28x10-12 | AQ-02 |
| 30x10-12 | AQ-03 |
| 28x10-14 | AQ-04 |
| 30x10-14 | AQ-05 |