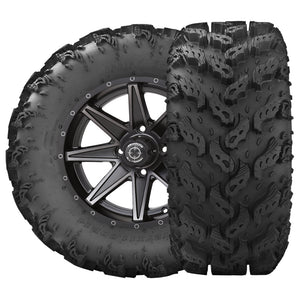 Interco Radial Reptile
• 6 ply rated ATV tire designed with advanced radial construction yielding the best ride and superior traction in all conditions.
• It has both excellent high and low speed handling.
• Earned reputation for being one of the smoothest riding and best handling tires in both high and low speeds on the market.
• 1" tread depth are available in 25 to 30" height sizes and up to a 20" ATV wheel size.
| | |
| --- | --- |
| Tire Size | Part # |
| 25x8R-12 | REP-52 |
| 25x10R-12 | REP-54 |
| 26x9R-12 | REP-44 |
| 26x11R-12 | REP-46 |
| 27x9R-12 | REP-48 |
| 27x11R-12 | REP-50 |
| 28x10R-12 | REP-60 |
| 30x10R-12 | REP-64 |
| 26x10R-14 | REP-56 |
| 26x12R-14 | REP-58 |
| 27x9R-14 | REP-40 |
| 27x11R-14 | REP-42 |
| 28x10R-14 | REP-62 |
| 30x10R-14 | REP-66 |
| 30x10R-17 | REP-68 |
| 30x10R-20 | REP-70 |