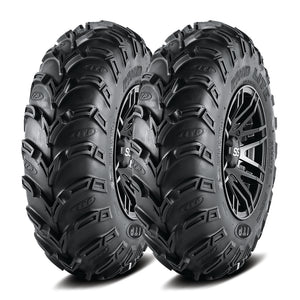 ITP® Mud Lite AT
• Extended-wear rubber compound for even longer life and better value!
• Revolutionary all-conditions tire: it's a 6-ply mud tire that's designed for the trail, a trail tire that slings mud with the best of them!
• Unique center tread contact area provides a smooth, radial-like ride.
• Made in the U.S.A.
| | |
| --- | --- |
| Tire Size | Part # |
| 22x11-8  | 56A387 |
| 22x11-9  | 56A388 |
| 25x12-9  | 56A373 |
| 22x8-10  | 56A3A8 |
| 22x11-10  | 56A3A5 |
| 23x8-10  | 56A326 |
| 23x10-10  | 56A327 |
| 24x11-10  | 56A305 |
| 25x11-10  | 56A308 |
| 27x12-10  | 56A318 |
| 23x8-11  | 56A304 |
| 24x8-11  | 56A332 |
| 24x9-11  | 56A3A9 |
| 24x10-11  | 56A328 |
| 25x8-11  | 56A320 |
| 25x10-11  | 56A322 |
| 24x8-12  | 560430 |
| 25x8-12  | 56A306 |
| 25x10-12  | 56A321 |