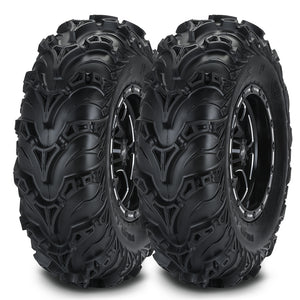 ITP® Mud Lite II
• A new twist on a proven classic, for SxS and ATV's.
• Redesigned tread pattern provides better traction, improves mud clean-out and maximizes ride comfort.
• Improved shoulder protection, mud breaking lugs and stabilizing cords to reduce flex.
• Available in sizes 25-30-inches tall, on 12 and 14-inch rims.
• 6-ply tire.
• Made in the U.S.A.
| | |
| --- | --- |
| Tire Size | Part # |
| 23x8-12 | 6P0886 |
| 23x10-12 | 6P0887 |
| 25x8-12  | 6P0527 |
| 25x10-12  | 6P0528 |
| 26x9-12  | 6P0529 |
| 26x11-12  | 6P0530 |
| 27x9-12  | 6P0525 |
| 27x11-12  | 6P0526 |
| 27x9-14  | 6P0531 |
| 27x11-14  | 6P0532 |
| 28x9-14  | 6P0533 |
| 28x11-14  | 6P0534 |
| 30x9-14  | 6P0523 |
| 30x11-14  | 6P0524 |