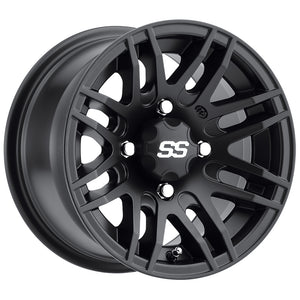 ITP® SS316 Black Ops
• Style and strength give the SS316 the best of both worlds.
• SS316 uses all-new "Rock Armor" reinforced inner wheel lip to make an already durable wheel even more bulletproof.
• Lifetime structural warranty - buy with confidence!
• Built to handle the demands of todays side-by-side UTVs.
• 1000-lb load rating on both sizes.
• Built using ITP's exclusive Advancecast process to exact QS 9000 quality specifications.
• Matte Black with matte clear coat.
• Matching SS wheel cap is included.
| | | | | | | | | | |
| --- | --- | --- | --- | --- | --- | --- | --- | --- | --- |
| Make/Model | F/R | Size | Offset/ET | Bolt Pattern | Style | Finish | Wheel #  | Lug Size | Lug Kit # (16) |
| Can-Am | | | | | | | | | |
| Outlander 330/400/450/500/ | F/R | 12x7 | 4+3  +5mm | 4/137 | SS316 | Matte Black | 12SB908 | 10x1.25 | NUTKIT01 |
| 570/650/800/1000 '03-22 | F/R | 14x7 | 4+3  +5mm | 4/137 | SS316 | Matte Black | 14SB908 | 10x1.25 | NUTKIT01 |
| Renegade 500/800 '08-12 | | | | | | | | | |
| Commander 800/1000 '11-22 | | | | | | | | | |
| Maverick 800/1000 '11-22 | | | | | | | | | |
| Defender/DPS/XT 16-22 | | | | | | | | | |
| | | | | | | | | | |
| Traxter 4x4 '99-06 | F | 12x7 | 5+2  +10mm | 4/110 | SS316 | Matte Black | 12SB900 | 10x1.25 | NUTKIT01 |
| Quest 650 '01-06 | R | 12x7 | 2+5  -47mm | 4/110 | SS316 | Matte Black | 12SB901 | 10x1.25 | NUTKIT01 |
| | F | 14x7 | 5+2  +10mm | 4/110 | SS316 | Matte Black | 14SB900 | 10x1.25 | NUTKIT01 |
| | R | 14x7 | 2+5  -47mm | 4/110 | SS316 | Matte Black | 14SB901 | 10x1.25 | NUTKIT01 |
| | | | | | | | | | |
| Maverick X3 2018-22 | F/R | 14x7 | 4+3  +5mm | 4/137 | SS316 | Matte Black | 14SB908 | 12x1.5 | NUTKIT11 |
| Maverick X3 4 2018-22, Maverick Trail | | | | | | | | | |
| | | | | | | | | | |
| Honda | | | | | | | | | |
| 420 Rancher AT '09-22 (IRS) | F/R | 12x7 | 5+2  +10mm | 4/110 | SS316 | Matte Black | 12SB900 | 10x1.25 | NUTKIT01 |
| 500 Foreman Rubicon 15-22, IRS | F/R | 14x7 | 5+2  +10mm | 4/110 | SS316 | Matte Black | 14SB900 | 10x1.25 | NUTKIT01 |
| 650/700 Rincon 4x4 '02-22, Big Red MUV | | | | | | | | | |
| | | | | | | | | | |
| 300 4x4 '89-00, 350 Rancher S-ES 4x4 '00-06 | F | 12x7 | 5+2  +10mm | 4/110 | SS316 | Matte Black | 12SB900 | 10x1.25 | NUTKIT01 |
| 400 Foreman 4x4 '96-06 | R | 12x7 | 2+5  -47mm | 4/110 | SS316 | Matte Black | 12SB901 | 10x1.25 | NUTKIT01 |
| 400/420 Rancher 4x4 '04-19 (straight axle) | F | 14x7 | 5+2  +10mm | 4/110 | SS316 | Matte Black | 14SB900 | 10x1.25 | NUTKIT01 |
| 450/500 Foreman S-ES 4x4 '98-22 | R | 14x7 | 2+5  -47mm | 4/110 | SS316 | Matte Black | 14SB901 | 10x1.25 | NUTKIT01 |
| 500 Rubicon 4x4 '01-22 | | | | | | | | | |
| | | | | | | | | | |
| Pioneer 500/700 '14-'20 | F/R | 12x7 | 5+2  +10mm | 4/110 | SS316 | Matte Black | 12SB900 | 12x1.5 | NUTKIT11 |
| | F/R | 14x7 | 5+2  +10mm | 4/110 | SS316 | Matte Black | 14SB900 | 12x1.5 | NUTKIT11 |
| | | | | | | | | | |
| Pioneer 1000 16-22 | F/R | 12x7 | 4+3  +5mm | 4/137 | SS316 | Matte Black | 12SB908 | 12x1.5 | NUTKIT11 |
| Talon and Talon 4 | F/R | 14x7 | 4+3  +5mm | 4/137 | SS316 | Matte Black | 14SB908 | 12x1.5 | NUTKIT11 |
| | | | | | | | | | |
| Kawasaki | | | | | | | | | |
| Teryx/T4 750/800 '08-'20 | F/R | 12x7 | 5+2  +10mm | 4/137 | SS316 | Matte Black | 12SB908 | 12x1.25 | NUTKIT14 |
| Mule 2500/3000/4000 Series | F/R | 14x7 | 5+2  +10mm | 4/137 | SS316 | Matte Black | 14SB908 | 12x1.25 | NUTKIT14 |
| | | | | | | | | | |
| 650i Brute Force 4x4 '06-13 | F/R | 12x7 | 5+2  +10mm | 4/110 | SS316 | Matte Black | 12SB900 | 10x1.25 | NUTKIT01 |
| 750i Brute Force 4x4 '05-'19 | F/R | 14x7 | 5+2  +10mm | 4/110 | SS316 | Matte Black | 14SB900 | 10x1.25 | NUTKIT01 |
| | | | | | | | | | |
| Mule Pro FXT 15-22  | F/R | 12x7 | 4+3  +5mm | 4/156 | SS316 | Matte Black | 12SB903 | 12x1.25 | NUTKIT14 |
| FXR, MX, KRX | F/R | 14x7 | 4+3  +5mm | 4/156 | SS316 | Matte Black | 14SB903 | 12x1.25 | NUTKIT14 |
| Make/Model | F/R | Size | Offset/ET | Bolt Pattern | Style | Finish | Wheel #  | Lug Size | Lug Kit # (16) |
| Textron/Arctic Cat  | | | | | | | | | |
| | | | | | | | | | |
| Wildcat XX 2018-19 | F/R | 14x7 | 4+3  +5mm | 4/156 | SS316 | Matte Black | 14SB903 | 12x1.5 | NUTKIT11 |
| | | | | | | | | | |
| Polaris | | | | | | | | | |
| 335 Sportsman '99-06  | F/R | 12x7 | 4+3  +5mm | 4/156 | SS316 | Matte Black | 12SB903 | 3/8"-24 | NUTKIT03 |
| 400/450 Sportsman '01-22  | F/R | 14X7 | 4+3  +5mm | 4/156 | SS316 | Matte Black | 14SB903 | 3/8"-24 | NUTKIT03 |
| 500/570 Sportsman '96-'19  | | | | | | | | | |
| 500 Magnum '02-06 , 600 Sportsman '03-09 | | | | | | | | | |
| 700 Sportsman '02-09, 800 Sportsman '05-'14 | | | | | | | | | |
| RZR800/900XP '08-14, ACE 570/900 '14-22 | | | | | | | | | |
| Polaris RZR 570 14-22 | | | | | | | | | |
| Ranger 500/ETX/570/EV/800 6x6 4x4 '03-22 | | | | | | | | | |
| | | | | | | | | | |
| Sportsman 550/850/1000 XP '09-22 | F/R | 14x7 | 4+3  +5mm | 4/156 | SS316 | Matte Black | 14SB903 | 10x1.25 | NUTKIT01 |
| Scrambler 850/1000XP '14-22 | | | | | | | | | |
| | | | | | | | | | |
| RZR XP 1000/XP 4 1000 14-22 | F/R | 14x7 | 4+3  +5mm | 4/156 | SS316 | Matte Black | 14SB903 | 12x1.5 | NUTKIT11 |
| | | | | | | | | | |
| Ranger Diesel/570 Full size/900XP/1000 13-22 | F/R | 12x7 | 4+3  +5mm | 4/156 | SS316 | Matte Black | 12SB903 | 12x1.5 | NUTKIT11 |
| RZR 900/900 XC/900/1000 S 15-22  | F/R | 14x7 | 4+3  +5mm | 4/156 | SS316 | Matte Black | 14SB903 | 12x1.5 | NUTKIT11 |
| | | | | | | | | | |
| Suzuki | | | | | | | | | |
| 450/500/700/750 King Quad '05-22   | F/R | 12x7 | 5+2  +10mm | 4/110 | SS316 | Matte Black | 12SB900 | 10x1.25 | NUTKIT01 |
| | F/R | 14x7 | 5+2  +10mm | 4/110 | SS316 | Matte Black | 14SB900 | 10x1.25 | NUTKIT01 |
| | | | | | | | | | |
| 400 Eiger 4x4 '02-07 | F | 12x7 | 5+2  +10mm | 4/110 | SS316 | Matte Black | 12SB900 | 10x1.25 | NUTKIT01 |
| 400 King Quad (straight axle) 4x4 '08-19 | R | 12x7 | 2+5  -47mm | 4/110 | SS316 | Matte Black | 12SB901 | 10x1.25 | NUTKIT01 |
| 500 Vinson 4x4 '02-09 | F | 14x7 | 5+2  +10mm | 4/110 | SS316 | Matte Black | 14SB900 | 10x1.25 | NUTKIT01 |
| | R | 14x7 | 2+5  -47mm | 4/110 | SS316 | Matte Black | 14SB901 | 10x1.25 | NUTKIT01 |
| | | | | | | | | | |
| Yamaha | | | | | | | | | |
| 350 Grizzly IRS '07-15, 400 Big Bear IRS '07-13 | F/R | 12x7 | 5+2  +10mm | 4/110 | SS316 | Matte Black | 12SB900 | 10x1.25 | NUTKIT01 |
| 400/450 Grizzly 4x4 '07-15 | F/R | 14x7 | 5+2  +10mm | 4/110 | SS316 | Matte Black | 14SB900 | 10x1.25 | NUTKIT01 |
| 400/450 Kodiak 4x4 '05-06 (IRS) | | | | | | | | | |
| 450/660/700 Rhino '04-13 | | | | | | | | | |
| 550/660/700 Grizzly 4x4 '02-22 | | | | | | | | | |
| Kodiak 700 16-22 | | | | | | | | | |
| | | | | | | | | | |
| 350 Grizzly (straight axle) 4x4 '07-13 | F | 12x7 | 5+2  +10mm | 4/110 | SS316 | Matte Black | 12SB900 | 10x1.25 | NUTKIT01 |
| 350/400 Big Bear 2x4/4x4 '87-06 | R | 12x7 | 2+5  -47mm | 4/110 | SS316 | Matte Black | 12SB901 | 10x1.25 | NUTKIT01 |
| 350/450 Wolverine 4x4 '95-11 | F | 14x7 | 5+2  +10mm | 4/110 | SS316 | Matte Black | 14SB900 | 10x1.25 | NUTKIT01 |
| 350 Bruin 2x4/4x4 '04-06 | R | 14x7 | 2+5  -47mm | 4/110 | SS316 | Matte Black | 14SB901 | 10x1.25 | NUTKIT01 |
| 400/450 Kodiak 4x4 93-04, 600 Grizzly 4x4 98-01 | | | | | | | | | |
| | | | | | | | | | |
| Viking '14-22     | F/R | 12x7 | 5+2  +10mm | 4/110 | SS316 | Matte Black | 12SB900 | 12x1.25 | NUTKIT14 |
| Wolverine 16-22  | F/R | 14x7 | 5+2  +10mm | 4/110 | SS316 | Matte Black | 14SB900 | 12x1.25 | NUTKIT14 |
| | | | | | | | | | |
| Yamaha YXZ 1000R 16-18    | F/R | 14x7 | 5+2  +10mm | 4/110 | SS316 | Matte Black | 14SB900 | 12x1.25 | NUTKIT14 |
| | | | | | | | | | |
| Yamaha YXZ 1000R 19-22, R-Max 1000 '22 | F/R | 14x7 | 5+2  +10mm | 4/156 | SS316 | Matte Black | 14SB903 | 12x1.25 | NUTKIT14 |